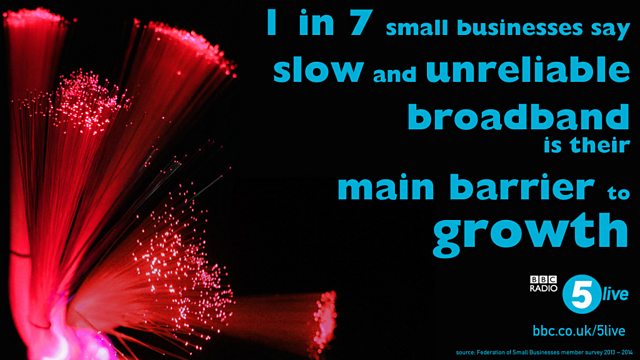 Poor broadband connection is the main barrier to growth for one in seven small companies, a survey has found.
The Federation of Small Businesses asked over 8,500 member firms what they believed were obstacles to them expanding. 14% identified poor connectivity with the internet.
One technology company told 5 live Investigates that its customers in India have a better broadband hook up than they do in Buckinghamshire. Another Devon based business said it would like to talk with customers using Skype, but the connection is too slow.
The National Audit Office said £1.2bn of public money is being used to subsidise the cost of broadband rollout across the UK, particularly in rural areas.
The Government's priority is for everyone to have access to at least 2Mbps broadband by the end of 2017, but the aim is for 95% of the population to get a much better service of super-fast broadband at 24 Mbps or more.
Some companies are complaining there's not enough information about who will be left with the 2Mbps service and who will get the superfast service.
Are you a small business affected by slow broadband?