Andy Murray set for US Open defence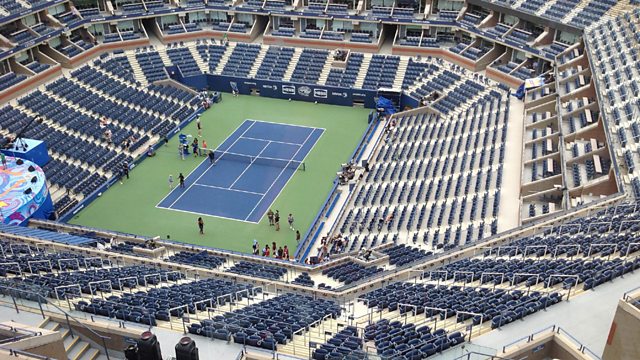 Russell Fuller looks forward to the US Open, his first Grand Slam as BBC tennis correspondent.
We're in the city that never sleeps - where jet lag is simply not an option - and Andy Murray just can't escape the attention of the US TV networks.
He's had a hit in front of the cameras with children affected by Hurricane Sandy, and filled a prime breakfast spot on CBS, but has now turned his mind very decisively to the task of defending a Grand Slam title for the first time in his career.
It's a great time to be starting as tennis correspondent, and a great city in which to begin. Take a look at the view from our commentary box, which is perched behind 22 500 people at the very back of the Arthur Ashe Stadium Court.
There are no calls of "Quiet please ladies and gentlemen" from the chair umpire here: there's constant chatter, music and entertainment at change of ends, and all as the jets from La Guardia airport rumble overhead.
You get plenty of bang for your buck here. Play starts at 11am, and one match last year didn't finish until 2.26am the following morning. So we are braced for long days, and cheese with everything - it's not a great place in which to start a diet.
We will have commentary on 5 live sports extra on virtually every day session. Coverage gets underway at 4pm, and some of the best night matches will be on Up All Night from 1am.
We will also bring you at least one of the men's semi-finals, plus both the men's and women's final live on 5 live in a couple of weekends time. Martina Navratilova, John Lloyd and Jeff Tarango will all be part of our commentary team.
David Law, Vassos Alexander and Philip Studd will be flying in soon to join the team, and as long as we don't upset the First Lady during her weekend visit, we will be ready to go from 4 o'clock on Monday afternoon.
Hear commentary and coverage of the US Open on 5 live and 5 live sports extra from Monday 26 August.