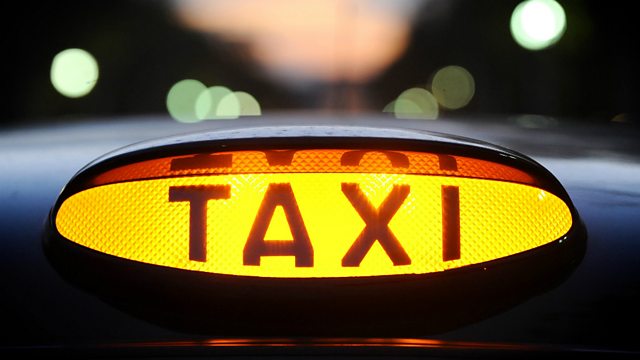 On average, more than 30 taxi drivers a year are subjected to the most savage assaults – wounding, attempted murder and murder, according to figures gathered by 5 live Investigates.
As the Christmas party season gets underway, one MP argues that it's time to think about the plight of taxi drivers who have to put up with abuse and assaults. He wants CCTV to be installed in all cabs to protect drivers and passengers.
5 live Investigates set out to try and quantify the level of violence faced by the men and women who operate the country's cabs.
We asked all UK police forces to tell us how many of the most serious violent offences have been recorded against taxi drivers while they've been at work. The Metropolitan Police, the largest force in the country, were unable to process our request in time.
The figures that were returned to us showed there were 161 offences of wounding, attempted murder and murder, against taxi drivers over the last five years. Six taxi drivers were killed.
CCTV footage captures an assault on a taxi driver in Nottingham in 2012. A male passenger in the back seat is throttling the driver, whilst the female passenger in the front seat tries to stop him:
One female taxi driver told us she was attacked with a knife attack during a robbery.
The knife was held to her throat by thugs who demanded money. During the attack she was slashed across her hands. She says it's taken the best part of a year for her to regain her confidence to get back to work.
A review has started into the regulation of taxis and private hire vehicles. In England and Wales, they are licensed by local authorities. Richard Fuller MP now wants it to be a licensing requirement for all taxis and private hire cars to have CCTV installed inside them.
Some cabbies have already installed CCTV themselves but that has been done on a voluntary basis.
Mr Fuller says some customers treat cabbies as second class citizens and subject them to verbal abuse and assaults. He says CCTV is found on buses and on trains to protect staff, and should be used to protect taxi drivers. He says the cost of CCTV should not be borne by drivers but by a small surcharge on each journey.
...
Also on 5 Live Investigates this week – vishing. You've probably heard of phishing, where emails arrive in your inbox to try and get you to reveal personal details that will then be used by fraudsters to plunder your bank accounts.
Vishing is a similar crime, except people are contacted by a fraudster on the phone, pretending to be from the bank. It's a growing problem, with an increasing number of people complaining to the Financial Ombudsman about the way the banks are handling these frauds.
We hear from one woman who lost her entire life savings to fraudsters, who pretended to be from her bank, and warned her that she needed to transfer her money into a 'safe' account.
5 live Investigates is on BBC Radio 5live on Sunday, December 15 at 11am.