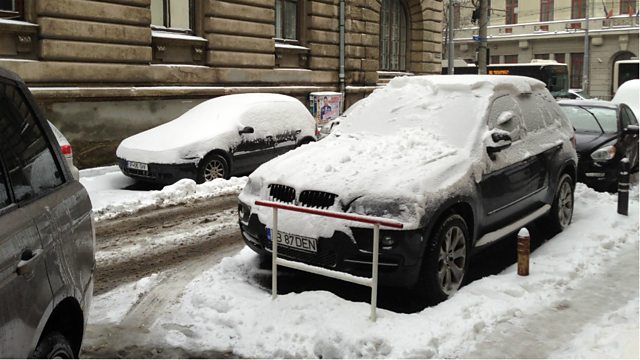 Sofia, the capital of Bulgaria, was cold. So cold that I needed to buy a hat. However, it is a country that has had a chequered success rate when it comes to tackling fakes and copyright fraud and I'm slightly suspicious that the trendy designer hat I ended up with isn't quite as legitimate as I originally thought.
It says it's made of merino wool, but my hair stands up on end with static electricity when I take it off.
The whole idea of this trip to eastern Europe is to hop between Bulgaria and Romania and that's what I've now done.
It's snowing here in Bucharest, the largest city in Romania, and even colder than it was in Sofia. I'm broadcasting from dawn to dusk and beyond.
In the Breakfast show I talked to the people behind Tjobs.ro which is, they say, the only Romanian website offering jobs in the UK.
Last year they found 47,000 vacancies in our country - mostly in caring and driving jobs. This coming year they expect to be busier still.
In Shelagh Fogarty's programme you can hear how, despite two and a half million people being without a job in the UK there are jobs that can't be filled and how people here in eastern Europe would be more than happy to do them. 
Then it's the big rush: I've got to get to the airport, catch a plane back to Sofia and make it to a language school in time for the Drive programme to hear from students trying to learn English.
If I'm honest, there's a good chance I may not make it - I may well get stuck at the airport.
Fear not, in true Blue Peter style I'll be able to say "here's one I prepared earlier" as I've already met a singer from County Durham who became Romania's Eurovision entry in 2011.
I've also been clubbing in Bucharest to see why British night club owners are investing in the city.
When the Berlin Wall fell, the BBC sent trucks with satellite dishes the size of children's swimming pools stuck to the back of them.
I'm broadcasting using just a phone. In terms of how it sounds, you probably won't notice any difference - which is how it's meant to be. 
We use something called VoIP - Voice over Internet Protocol - to broadcast from. You may have used Skype, or one of the many other programs available.
You probably realised that the voice you're listening to sounds 'different' - in radio terms we call this 'in quality' - and in theory, it means you both sound as if you're in the same room as each other, despite being thousands of miles apart. 
To broadcast on a satellite transmitter costs a lot of money. A five minute broadcast can cost around £50. Using Voip on a phone costs less than £3 when calling from Europe and a lot less in the UK. 
If you're using someone's wifi connection though, it costs nothing. Admittedly you do get some strange looks from people you go to interview when you turn up carrying just a smartphone.
They think you'll appear on their doorsteps with masses of wires and electrical contraptions and, if I'm honest, they look a little disappointed sometimes.
Nick Garnett is in Romania and Bulgaria for 5 live looking at the issue of immigration.