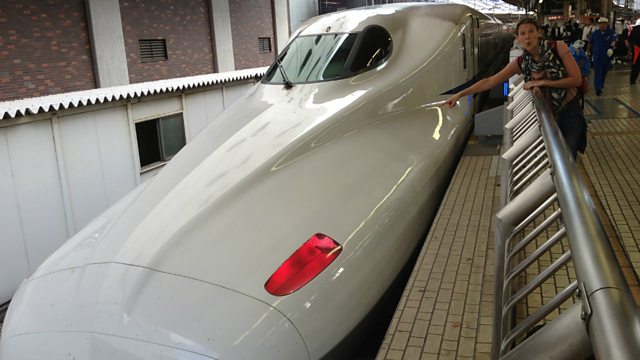 There is something reassuringly comforting about not having a clue where you are, not being able to understand a single sign and basically, being a 'fish out of water'.  All too often when we travel the world for Formula 1 it feels as if you have barely left the UK. You see the same brands on the high street, the food is the same cosmopolitan mishmash of pizza, pasta and chips and almost everyone you see in the small towns and villages we stay in is connected to F1.
Not so in Korea and Japan and that is one of the most exciting things about coming to the Far East. All of a sudden nothing is as expected. Everything is new, different, strange – I love it.
In Korea we stay in 'love motels 'with half full bottles of hair products and used combs. The taxi drivers speak absolutely no English and even trying to get to a local restaurant is tricky.
I was lucky enough to be on a flight from Singapore to Seoul that had some language lessons on the entertainment system so I plugged in and rather than watching The Internship, I learnt the basics of Korean and Japanese. I can now say thank you, I don't understand, goodnight and what's your name in both languages, with varying levels of success (apparently my Korean accent was rubbish but my Japanese very acceptable).
After the Vettel dominated performance in Mokpo some of the drivers chartered a private jet and travelled straight to Tokyo from the local airfield near the track. I heard Lewis Hamilton was on there with Mark Webber, Kimi Raikkonen and Nico Rosberg, to name a few. For us mere mortals it was a slightly different journey involving planes, trains and automobiles.
We left the circuit and headed for our love motel to check-out. I took great joy in asking Mr Jung, the manager, 'where are the toilets?' in Korean and getting an answer! After that it was a taxi ride to Mokpo station and a 3 hour journey back to Seoul. The trains in Korea are brilliant; free internet and each time the guard comes into, or leaves, the carriage they bow!
It raised a few eyebrows when Gary Anderson, Ben Edwards, Jonathan Legard and I recorded the Chequered Flag show on the 22.20 KTX train to Incheon. Finally, we arrived in the centre of Seoul and got a taxi (incidentally pronounced Tack-shi in Korean) to our hotel where I would spend six hours before having to head off again to the airport.
The alarm went off all too early. We headed to the airport and a flight to Narita, near Tokyo. Now this almost never happens but I was given an upgrade when I got to the check-in counter and I can't begin to tell you how excited I was. It may well have only been a 2 hour flight but sat there in my reclining seat I couldn't help but smile to myself…and then fall asleep!
All too soon the flight was over and we were at Narita. The prettiest, lace bedecked taxi was our carriage for the last part of our journey to Tokyo as the sun set over the city. It's a spectacular skyline and a stunning city, even if the driving is a little scary and the roads are full almost all of the time.
Almost 24 hours after the drivers on their 'uber' plane left the track for Tokyo we arrived, slightly dishevelled but happy, hungry and heading for the highlights of a city that never sleeps.
Temples, gardens, palaces, shopping arcades, dried fish, fresh fish, rice pancakes, vending machines and electronic centres that make your mind boggle. At the famous Shibuya crossing hundreds of people cross in all directions in a feat of traffic engineering that even Gary Anderson would be proud of; that makes the crossing at Oxford Circus look like grade one planning.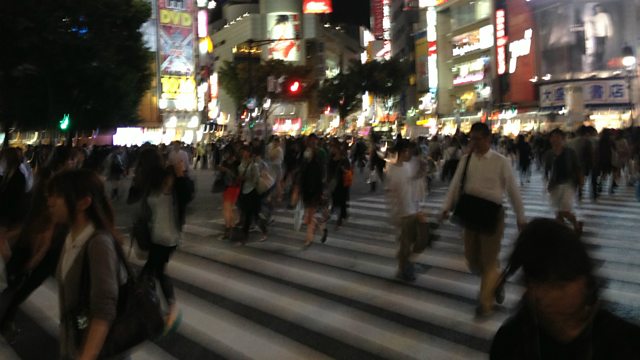 One of my favourite places was a small temple that I found right in the heart of the Ameyoko shopping streets. Imagine somewhere like Carnaby Street with all it's hustle and bustle and then tucked away up a few small steps a serene temple with smoke from incense sticks wafting attractively in the air. I didn't go in, it seemed inappropriate but from the other side of the pathway, among the cheap shampoo and toothbrushes in a stall; I took a moment just to look and marvel at how old and new Japan mingle in the most unlikely way.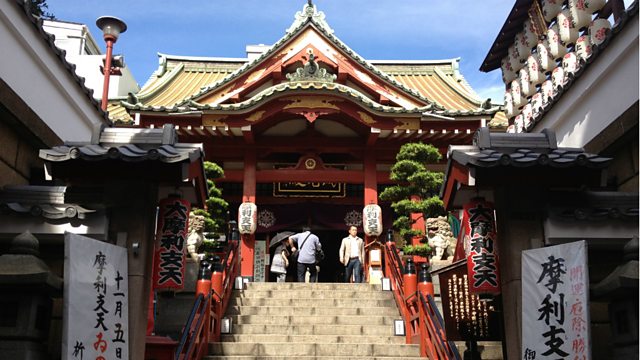 In contrast to the quiet calm of Tokudai-ji temple (as @teru_kidokoro informed me) my next stop was the Sensoji temple in Asakusa. Thousands of tourists flock there every day to walk down the famous market street Nakamise with gold and yellow leaves hung over the shops jangling in the breeze, and the smell of soya-bean pancakes making your mouth water.
There is a huge Chinese lantern hanging from the rafters of the temple and to the left of the complex a five-storied pagoda looms over the tranquil gardens that sat next to the throng of the temple rather incongruously.
Inside the temple you can make wishes and there is even a fortune telling tradition. You pay 100Y and shake a silver cylinder full of sticks whilst making a wish. One stick comes out and directs you to the corresponding drawer with the same sign on it. You put the stick back and open the drawer and in it is your fortune.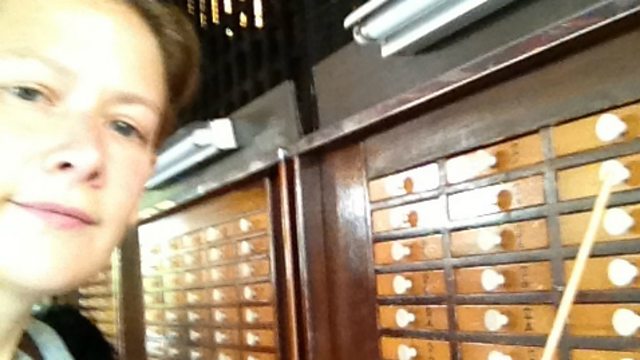 I don't know if I should worry – mine said 'employment should be stopped' among other things!
Sticking on the tourist trail our final night in Tokyo was spent having dinner in the restaurant where Kill Bill was filmed (supposedly) called Gonpachi. We ate Sashimi and flame grilled Skewers and talked about how amazing Japan is; a country so respectful and kind, where manners are most important. In fact, if you leave a tip for your waiter, they will come running after you to give it back to you!
Our final Tokyo mission was to get the Bullet train (the Shinkansen) to Nagoya and then across to Yokkaichi, the destination for the final leg of my month in the Far East.
Next stop Suzuka and Vettel could be crowned World Champion for the 4th time if he can win and his Ferrari rival Fernando Alonso fails to finish in the top 8.
Download the Chequered Flag Formula 1 podcast
Follow BBC 5 live F1 on twitter