5 live's special programme on the Eastleigh by-election with Victoria Derbyshire should be a compelling listen for those who love their politics. And maybe more so for those who don't. On Thursday 28 February - polling day - someone's going to get bruised.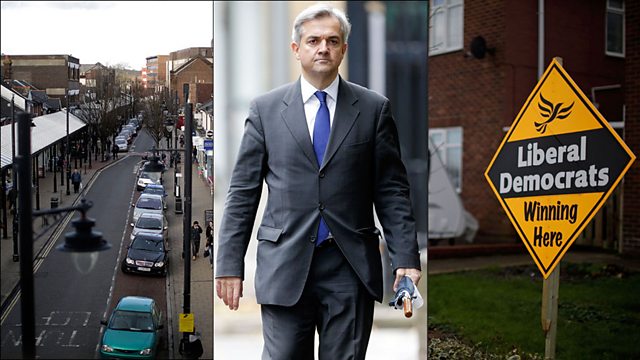 Eastleigh high street, former MP Chris Huhne and a Lib Dem campaign placard in Eastleigh.
While former Cabinet minister, former MP and possible future prison-inmate Chris Huhne awaits sentence for dodging speeding penalty points and lying about it, the Eastleigh by-election has turned into exactly the closely fought scrap blood-thirsty pundits were predicting; not exactly bloody, but tense, and with a lot of political credibility riding on the outcome. Now, perhaps you're groaning to yourself: "Yet another Parliamentary by-election! And yet another political hack telling me how interesting it all is!"
Well, I don't blame you. Most Parliamentary by-elections help fill news bulletins and newspaper columns for a few weeks, and are forgotten in fewer days, or hours. The party in power expects to get a kicking, and usually does. These mid-term contests tell you much more about what people are thinking here and now than what they may think at the next election. Eastleigh, though, is a little different.
It's the first time a Liberal Democrat seat has been contested since the May 2010 election gave us a Con-Libdem coalition. The two parties are going head-to-head, if you believe the polls; struggling to pummel the other's credibility without leaving too much blood on the floor for the Coalition's leaders to mop up. And on each side they are looking to Eastleigh to lighten the deepening gloom of their opinion poll ratings.
We have invited four of the principal candidates; Conservative, Liberal Democrat, Labour and the UK Independence Party. Each will have an equal chance to bring out a campaign game-changer. Or, who knows, a disastrous gaffe? There'll be an audience of around 30 Eastleigh voters. They'll all be invited to share their thoughts on the national and local issues at play, the state of the Coalition, the Huhne effect, or lack of one. And, for what it's worth, I'll be doing my best to inject a little unbiased perspective.
For the Libdems losing Chris Huhne to the probable care of HM Prison Service was scarcely likely to be a vote-winner, but the party holds every borough council seat in the constituency, has a strong local campaigning machine, high local approval ratings and is desperately keen to show that in Eastleigh and elsewhere these assets can help them prove the polls and the pundits wrong. The Conservatives want to show they can gain ground in what, for them, ought to be prime Tory territory. One or two Tory MPs even claim losing here would inflict a deep wound to David Cameron's credibility as leader (though that speculation seems a little overheated to me).
The UK Independence party insist they are capable of challenging for the seat, which is questionable, and that they are now a painful thorn in Tory sides, which is not. Labour would also love to buck the polls, but will enjoy seeing each of the Coalition partners biting chunks out of the other, whatever happens. You might find that interesting too.
John Pienaar will join Victoria Derbyshire with an audience of voters in Eastleigh from 10am Thursday 21st February.