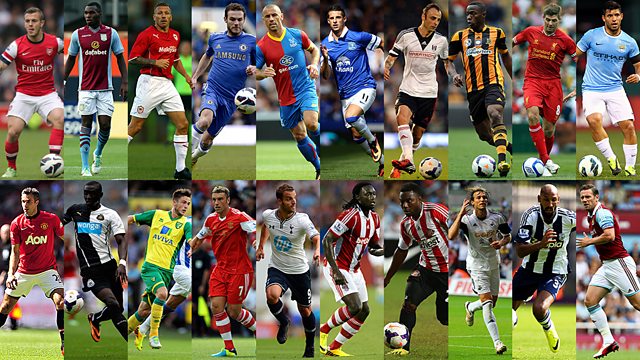 The start of the Premier League season is always an exciting time for everyone at 5 live.
We're extremely proud to bring you a total of 128 live matches from the Premier League, with our commentary team led by Mike Ingham, Alan Green, John Murray and Ian Dennis. On top of that, we'll also have coverage of the Champions League, Scottish Premiership, Football League, FA Cup, Capital One Cup, the Europa League and next summer, the World Cup in Brazil. Plus, this year, we'll also be enhancing our coverage of women's football with commentaries from the Super League and some of the key World Cup qualifiers.
However, as we embark on the new season, there is also a sense of sadness in our ranks. For the first time in nearly 40 years, 5pm on Saturdays will not be graced by the familiar, melodious tones of James Alexander Gordon reading the classified football results.
James - or JAG as he is known to friends and colleagues - has been forced to retire as his voice is no longer strong enough to broadcast following surgery to treat throat cancer.
It is a cruel way to end a legendary career. He had made reading the results into an art form - every inflection of his voice indicating which way a match had turned. We will miss him terribly.
It was never going to be easy to replace James, but I am delighted that the former Radio 4 newsreader, Charlotte Green, has agreed to take on the role. She will start on Saturday September 28th and says it is a dream come true.
Only myself and producer, Audrey Adams, have been fortunate enough to hear Charlotte reading the results. We met up earlier this month to have a run through - and it left us in no doubt that Charlotte is the perfect choice to take over one of the most high-profile roles in radio. She can't wait to get started.
Our football line-up includes more new voices this season as well, with Chris Waddle and John Hartson joining our team of pundits, Ian Wright and Kelly Cates presenting Sunday 606 while Dan Walker takes over as Friday 5 live Sport presenter.
So there's lots that is new, but Dan will also be bringing back something old and much loved - the theme music  which used to herald the start of Sport On Two many years ago will now play out at the opening of Dan's show every Friday night. It's a wonderfully evocative piece of music and we hope it will get everyone in the mood for our big weekend preview show. You can listen to it by pressing play below:
Then, after all the action, the Monday Night Club returns with Mark Chapman, Motty and Steve Claridge debating the big issues from the weekend.
But it's not just about big clubs on 5 live - listen out for Caroline Barker's excellent Non League Football Show at 5.30am every Sunday or, if that's too early, it's available as a podcast.
It promises to be another great season and we hope our blend of old and new will be a winning combination for all our listeners.
Dan Walker's first Friday night 5 live Sport begins at 7pm on August 16th. You can get in touch with the programme on by calling 0500 909 693, by texting 85058 or by tweeting @bbc5live.
Subscribe to our Football Daily podcast for all our best football analysis. You can also read our full commentaries list here.