The Voice UK: Have the judges found their winner?
BBC Radio 5 Live's Must Watch was on the red carpet for ITV's The Voice UK 2019.
We caught up with presenter Emma Willis, as well as coaches, Tom Jones, will.i.am and Olly Murs to find out if they've found a winner yet...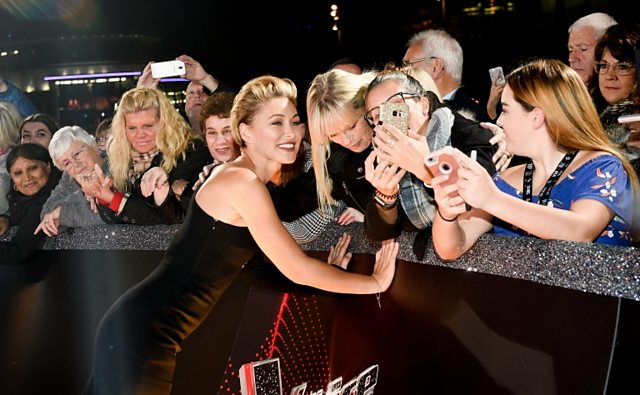 (Photo: Getty)
Emma Willis: "We've definitely seen a finalist"
"I love coming back. It's a very comfortable, happy, warm place to work. It's a nice time of year - it's getting cold, Christmas is coming - it's a cosy family time."
What's The Voice been missing - what does it need this series?
"I want a brilliant level of talent, not because it's missing, but because that's what we do so I want to maintain the standard that we have every year - and we are. We're halfway through now and it's brilliant.
"I want to see a good trio as well because we've introduced that this year - it'd be amazing if we had a knockout one.
"I kind of want Destiny's Child - which is an immense amount of pressure, but I think that's maybe what we don't have at the minute."
What are the coaches like this series?
"They get on really well - they're brilliant - they're amazing at what they do. They all get on brilliantly, but in a way where they can have a little dig at each other and it never gets taken to heart."
"Olly was a duck to water in his first series; Jennifer is just the best woman in the world; Tom, we don't need to say anything."
Have you seen the winner yet?
"We've done two days, and we've got two days left - we might have seen the winner, but I don't know what's to come. We've definitely seen a finalist - 100%."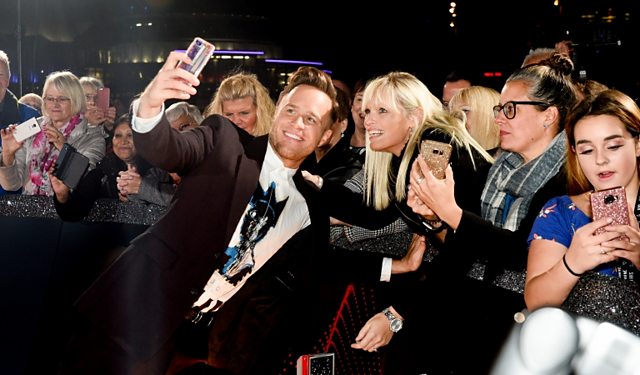 (Photo: Getty)
Olly Murs: "Sir Tom is the one I'm most concerned about"
"I got a lovely lady yesterday who I'm very very excited about - for The Voice audience and what they like, she's a contender."
What do The Voice audience like?
"They like someone they can go on a story with - someone that they can see their journey, and have a connection with and I think this girl ticks all the boxes."
What's the life of a coach on The Voice like?
"When we finish the blind auditions, I have a couple of days in London and do some coaching - we'll get round the piano, start picking songs, getting to know each other and understand what they like and don't like. And then it's all about practising and getting ready for the battles."
Are you jealous of any of the acts the other coaches have snapped up?
"I turned six times on the first day and didn't get any - the other coaches beat me to it, which was highly frustrating because they were really talented singers.
"I'd say at the moment Sir Tom is the one I'm most concerned about."
Is it getting more difficult to find unique talent?
"I don't think so - they're always going to be out there. Music's been around forever and there is always someone that pops up every year. There are so many artists coming through that are talented and amazing.
"I've kept in contact with all my amazing contestants from last year and it's really nice to hear where they are going on their journeys."
Does The Voice have more work to do to compete with the X Factor's legacy with acts and winners?
"No - I don't think it's anything The Voice is doing wrong - I think it's just the market and the records they're releasing, and who the artist is. Remember, when X Factor first started, it wasn't until Leona Lewis came out that it went to the next level.
"I think that's what happening with The Voice - by the way, speak to Will and Tom and they'll say they've had some singers that have done big features on big tracks and have had big songs.
"Maybe it doesn't get the same traction as X Factor, but there's a lot of things you've got to tick - hunger, desire, professionalism, you've got to be unique, have the talent and the voice and if you can get all of those elements in one person then you're onto a winner. At the same time, it's such a hard industry.
"What we're trying to do here is like a crash course to show what the industry's like - it's like we're taking you to the ocean and seeing if you can swim."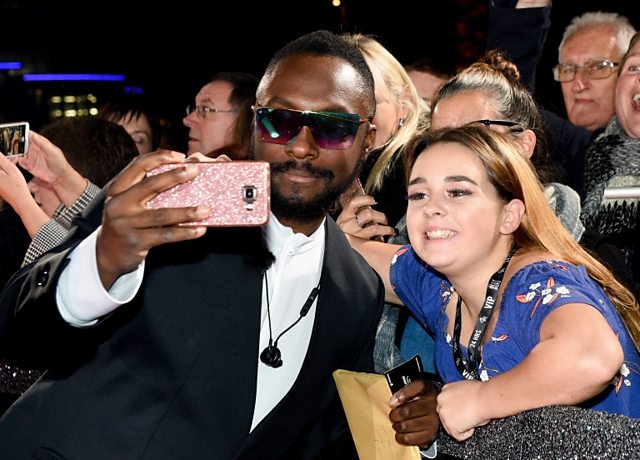 (Photo: Getty)
will.i.am: "Tom's found the winner... so far"
"Tom's found the winner, then Jennifer second, then I'm third - so far.
What do you need to beat the people they've found so far?
"It's just obvious! You hear a singer and you're like 'what the eff!' And then everybody turns and they pick Tom.
"Then somebody else comes out and you're like 'what the eff!'
"Me and Olly have to cross our fingers that maybe we get somebody to compete with those two.
"You could say that J-Hud [Jennifer Hudson] has a Whitney [Houston] on her team."
Are you jealous?
"I want to say that I've got an awesome singer, but when I don't I'm going to tell you who does. I'm going to work really hard to get someone to compete with those two mega-bombs.
"And if I don't, I'll coach my team to compete directly with those on Tom and Jennifer's teams."
What are your next steps as a coach?
"The only thing we have is fear. We have to scare the s*** out of your singer, to say: 'Look at your opponent. You see Goliath there? That's who you have to beat.'"
Are you going to be the David to the Goliath?
"Yeah but it depends on your singer. As much as you want to believe your team can do it, if they don't come through, they don't pull through - it's a team effort."
BBC Radio 5 Live reporter Calum Macdonald sneaks in as many Tom Jones songs into an interview with Tom Jones as possible (in two minutes). Sir Tom Jones is a judge on this year's 'The Voice' on ITV.
Must Watch is 5 Live's TV review on Afternoon Edition every Monday from 15:00.
Click here to catch up with all of our film and TV reviews.