US election: The strangeness of El Paso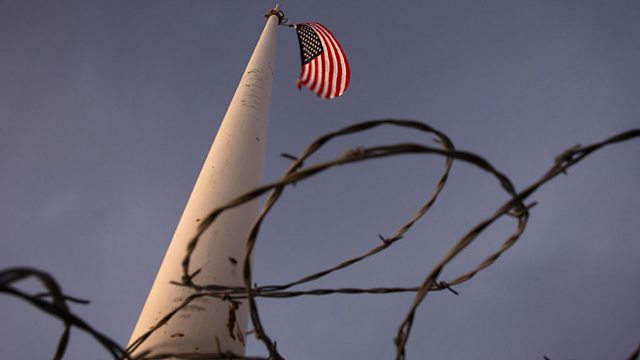 US Mexico border
The Drive Road trip covering the US presidential election was always going to be gruelling: lots of flying, lots of kit to lug onto aircraft, lots of kit to pack into cars, lots of time zone changes and not too much sleep.  Along the way we've met a customs officer who thought I was the producer's mother, a guest who stormed off just before I asked him the first question and a big bad storm with a rather sweet sounding name, Sandy.
 
The first incident happened when we landed in the US, at customs. Our broadcast kit has its own passport called a Carnet and you have to get it stamped in and out of the country.  After checking the credentials of myself and engineer Gary, the customs officer assumed producer Jim was our son. Not a good start.
 
The second incident happened in the strange old town of El Paso in Texas.  We were standing on the dusty, often dangerous American/Mexican border alongside the City's Democratic Senator and his Republican challenger.  They introduced themselves, they knew they were debating with each other and they appeared perfectly happy.  But then the Republican candidate noticed the Senator's press officer was with him.  He doesn't like this particular gentleman as the press officer also writes articles for the local paper – and, unsurprisingly, he's criticised the Republican candidate in some reports.
 I was welcoming the two men to the programme when the Republican candidate suddenly threw off his headphones and walked to his car. Producer Jim chased after him.  I don't know quite what ensued but I think Jim persuaded the press officer to stand further away from the Republican candidate - we're still not quite sure why that was necessary. The Republican candidate then walked back over to me while I was live on air. I introduced him on the programme, when, for the second time, he marched off as the press officer was not far enough away.  It was a ludicrous situation and the press officer now has a great story for his local paper. Can you imagine the response if a British politician acted like that?
 
Anyway, the oddness of local politician's behaviour kind of represents the strangeness of El Paso.  Its Mexican neighbour, Juarez, is really part of El Paso's conurbation.  A river and a fence is all that separates the two, and thousands cross legally every day for work, to visit family or to go shopping. But thousands cross illegally every year too: they climb the fence, swim across a treacherous waterway and smuggle themselves in cars, or they come in legally to shop and just don't go back to Mexico. 
 
We visited the border with the Border Patrol and had incredible access to the detention facility they're taken to, when caught. On the roof of this windowless, eleven-floor, concrete brick of a building is their 'recreation area', where they can spend an hour a day outside. It's a giant cage, bars above and around it, and inside are little individual cages where inmates "who don't play well with others" - as our guide described them - 'exercise'.   The people in there leave you in little doubt that it's a violent old border: drug dealers and gun smugglers. But alongside them are poorer inmates who were trying to earn some money working in the fields of Texas.  The detention centre staff told us they see many faces again, and again, and again.
 
And finally there has been Sandy. Sandy has caused real chaos and terror a little to the east of us, so it seems churlish to complain about a few plane delays. But of course, it's had a huge impact on internal travel: 8000 flights were cancelled in one day, so planes are all over the place.  After a few detours around the US, a good deal fewer hours of sleep and some debate as to how to reach our next destination, we've finally got to Detroit. 
It's another fascinating city, with lots of fascinating people to speak to.  It also has the world famous Motown Museum, the studio where Berry Gordy recorded all those classics.  I've been before, the boys hadn't, but they have now....you've got to squeeze in some fun too.
Lesley Ashmall is reporting on the US presidential election for 5 live Drive.