When I was asked to create a list of my Top 10 No 10s I didn't realise quite how hard it would be. 
It wasn't a case of listing anyone who had ever worn the No 10 shirt and picking my ten favourites - far from it. I was thinking about the role of the No 10, the whole ethos of the No10 and what he stands for: the beautiful game. In a way this is arguably the ultimate list; not a list of the world's greatest ever players, but a list of the top ten of the world's greatest entertainers. The most effective players in the creative sense: goals and assists.
I undertook this task as I wanted to discuss and celebrate the creative playmakers I – and I believe the fans - so love to watch. Those who give us all value for the price of a match ticket.
The No 10 role is the conductor of the orchestra. The one player I would travel miles and pay anything to watch, regardless of the team they are playing in. He has vision, is a goalscorer, a creator and exceptionally gifted; he has that touch of fantasy. He is the player every other player would like to be.
I had three lists of ten right until we went on air, and I'm still debating some of those I left out. But here's my final ten: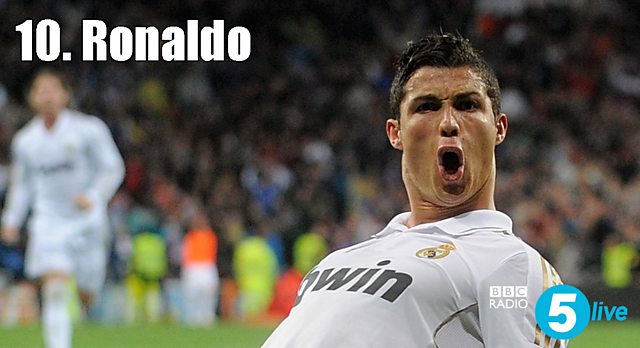 Cristiano Ronaldo
A perfect example of the philosophy of a No 10.  Of course he wears 7, and in fact started out as a winger. But Lionel Messi began as a wide player, and so too did Bobby Charlton and George Best. But they both moved inside to dictate the game, as indeed Ronaldo has done for Manchester United and now for Real Madrid.
Bobby Charlton
For me the lack of two-footed players in English football is something of a bugbear, and something I plan to address (but that's for another day). Sir Bobby, however, is one of that rare breed; totally two-footed. How many are there these days? It was impossible to tell which was his natural foot from looking at those long-range shots and passes. He also had that wonderful 'drop the shoulder' upper body deception to his game to beat an opponent. In today's game it is all lower body slight of foot.
Zico
I imagine many will point to Zico and say why not 'X, Y or Z', and there is sure to be a long list of those I have left out. But for me Zico was just a wonderful player: creative, and a goalscorer of exceptional goals. Coaches would often say 'Zico' if someone did something exceptional, and I can understand why.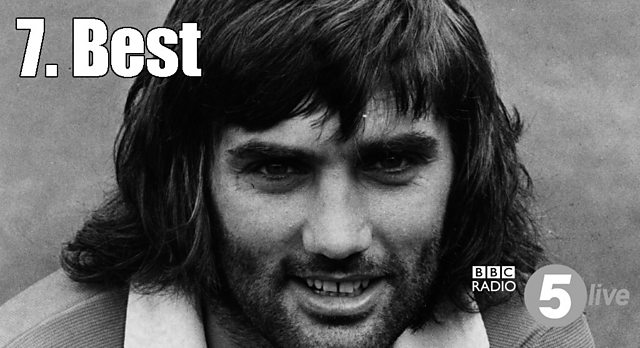 George Best
It is such a tragedy he only lasted until around 28. It was also such a shame he never played in a World Cup or – for me - that he was not English! I imagine he would be pushing even Pele and Maradona for the world's greatest ever player if he had taken the world stage by storm. Here is what I mean by paying to watch one player. Whenever the ball reached his foot there was a buzz around the stadium. A feeling of excitement and anticipation that this guy was about to do something worth watching.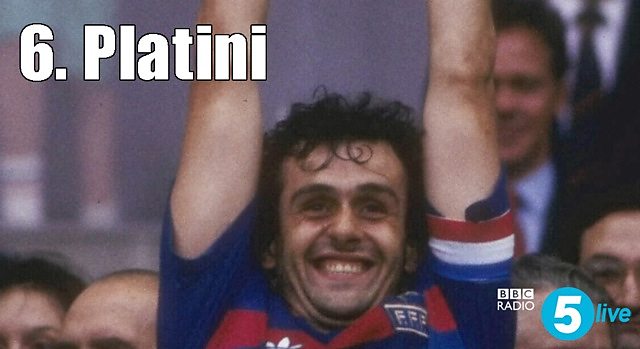 Michel Platini
The younger generation might see Platini as a somewhat portly French figure, but in his prime this guy was sublime. Extraordinary vision and goals of incredible ingenuity.When I went abroad to play for Monaco they called me a No 10. It was an accepted position of great notoriety in the form of players such as Platini. You didn't have to mark, defend, or even run around a lot: you were the conductor of the orchestra.
As a No 10 abroad the role has license to roam and to exploit the spaces, therefore marking opponents or defensive duties were hardly a priority for such a specialist position.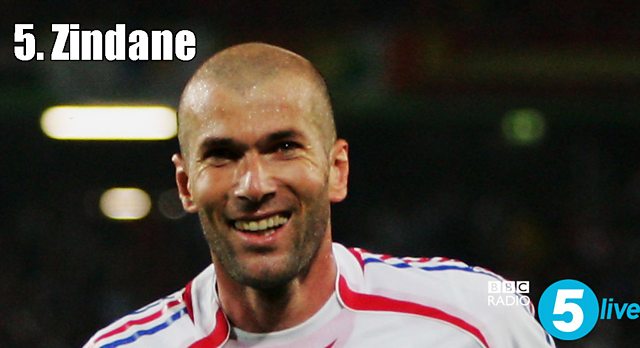 Zinedine Zidane
The archetypal 10 in my book actually wore 5, and comes in at No 5 in my list. Another Frenchman, and another genius in world football as well as with his club. A flawed genius? Well, I'm not so sure that one - albeit major - indiscretion has tarnished a player of enormous ingenuity.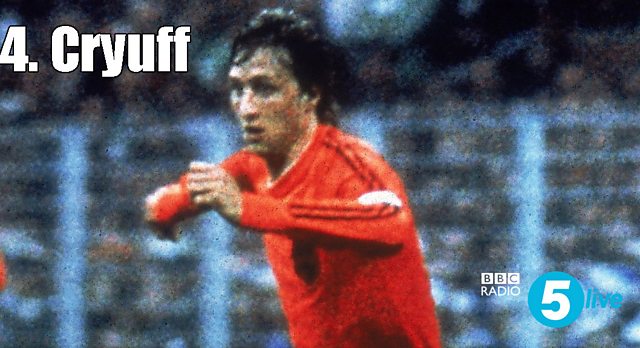 Johan Cruyff
There are not many - in fact, precious few - who have a move named after them. The Cruyff Turn. He was the magician in a wonderful Dutch team, and the Dutch have had some incredible No 10s down the years: from Ruud Gullit to Williem van Hanegem.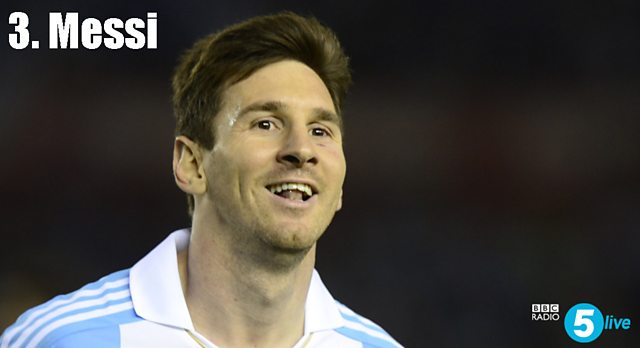 Lionel Messi
If we were doing list in five years time this may change and Messi could easily be No 1. He has already scored an incredible number of goals, and he's only in his mid-20s. It's incredible to think what he might achieve. At the moment he hasn't fulfilled his potential in world football. He hasn't won a World Cup. A player like Maradona has carried his club and country virtually single handedly. Maybe Messi will do that with Argentina next year...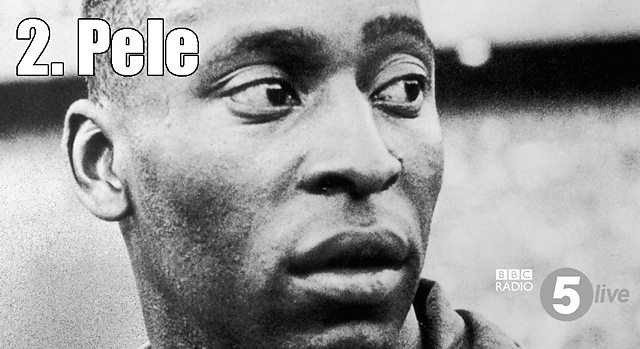 Pele
It may come as a surprise that I've placed Pele behind Maradona. It's such a difficult call. Pele achieved greatness in Sweden at such a tender age, but he always played in sublime Brazilian sides, whereas Diego carried his club and country often on his own. That's the dividing line for me.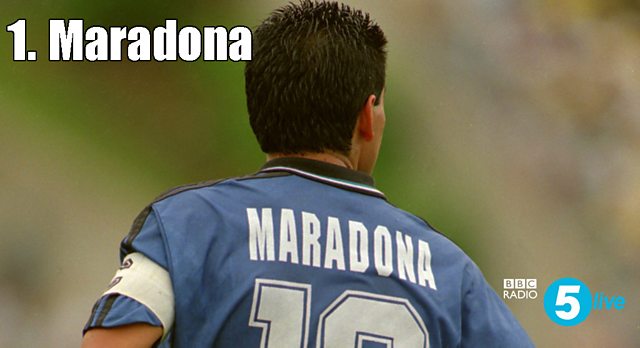 Maradona
I have played both with and against him and maybe this helped me place him in the number one spot. Against him at the World Cup in Mexico when he handled the ball, and when he went past half of our team to score a wonder goal. I was nowhere near to stop him slaloming through our team for one of the best ever World Cup goals. I also played with him in Ossie Ardiles' testimonial match at White Hart Lane.
Diego won a title with unfashionable Naples, and a World Cup almost single handedly. That's the reason I put him as the No 1 No 10.
It's been a great experience working on the concept of the Top 10 No 10s, and already I have noticed fans have submitted a deluge of alternatives. Believe me, I still cannot believe some of the great players I have left out. The debate will run on and on, even now I am tinkering with the list!
Listen again to 'Glenn Hoddle's Top 10 Number 10s'.