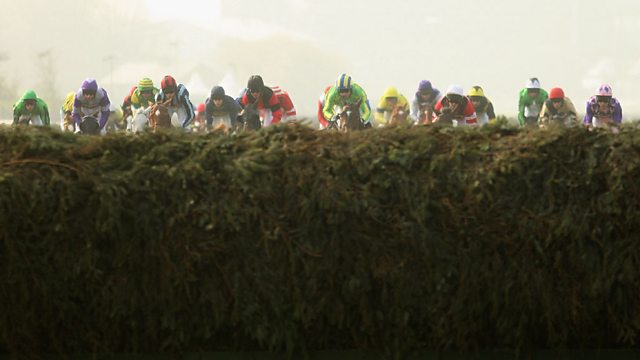 "Stone cold magic." The late Ginger McCain, 'Mr Grand National', trainer of the legendary three time winner Red Rum and 2004 victor Amberleigh House, came out with much entertaining nonsense, but those three little words of his sum up the lure of Aintree perfectly.
We're preparing, some with breath held, for another thrill-a-minute ride from BBC Radio 5 live's commentary box at Aintree.
The participants have now completed their preparation.  Large dark green Grand National type fences have been deployed at major training centres in Britain and Ireland.
Valiant returnees Sunnyhillboy, Seabass and Cappa Bleu will have their own Aintree senses re-awakened early this week but for commentators, the names slowly change from year to year, yet the preparation remains much the same.
It's part tradition, part necessary, but an early walk of the Grand National course is essential. Just like walking every inch of Greenwich Park ahead of the Olympic Games last summer, a chance to walk ahead of the headline makers to come in the company of the spirits of those of yesteryear helps frame the mind-set for the week ahead.
You conjure the potential stories of today whilst reliving the dramas such as Devon Loch, Foinavon and Red Rum's impossible run for victory against Crisp. The rain soaked Red Marauder/Smarty duel of 2001 when for much of the second circuit they were the only two in it. I was one of the course commentators that day and remember clearly thinking as I called them over Becher's Brook for the second time, "What are you supposed to say if none of them complete the course?" Then last year, as close a finish as living memory could recall.
All this and more, as I quietly slip around the two mile circuit with the place to myself. A wonderful privilege and an opportunity never to be spurned. With the spiritual bank refuelled, it's back to the Media Centre for the nuts and bolts preparation.
The flow of a successful Grand National commentary depends largely on recalling a range of facts with ease. How many rides has Katie Walsh had? Was Jonjo O'Neill's record in the race as a rider really that bad? How well was On His Own going when falling at Becher's Brook last year? Very is the answer. Who is the starter? Is Sir Alex Ferguson here? So many questions. It's no good knowing on Sunday morning.
Added to that, of course, are the jockey's colours. The most important thing for a race commentator. Getting a look at each and every runner beforehand is vital.
JP McManus, Sunnyhillboy's owner, usually likes to make things interesting with three or four runners in the race and the different coloured jockey's caps will often be all that distinguishes one from the other.
It's amazing how in theory, one jockey's silks can be so different in reality to what you are expecting to see. If you are expecting dark blue and it's a light blue,  that even looks white from a distance, you have to be aware of it.
Eleven years ago I was on first fence duty. Nine horses fell at the first. One of which I said with complete conviction, was Djeddah. Four minutes later, the field came by me again. Djeddah included. In almost identical black colours it had been one of the favourites, Paris Pike who had taken the tumble. In the biggest race of the year, even though just about everyone is on your side and plenty will offer a consoling "Well, I couldn't do it" if needs be, the worst thing in the world is to make mistakes like that.
Oh, and one thing for my wish list please? 70,000 people will want a warm sunny day. The exceptions are the commentators who will rejoice at slate grey skies up above. The sun, and the tricks it can play, is no friend of the race commentator.
I love the National, always will, and accept the risks involved as being real and ever present, that the levels of risk are acceptable. That every horse and rider returns fit and well marks a wonderful outcome.
I recall the words of Christina Henry's poem, Risk taking is free: "To hope is to risk despair, to try is to risk failure. But the greater hazard in life is to risk nothing, they may avoid suffering and sorrow but they simply cannot learn, feel, change, grow, or love chained by certitudes, they are slaves who have forfeited freedom. Only a person who risks is free."
Ginger was right all along. Stone cold magic, indeed.
Full coverage of the Grand National on 5 live on Saturday 6 April from 4pm. On Wednesday 3 April at 7.30pm a special programme recalls the 1993 race The National That Never Was. Hear a taster clip of the programme.