The National That Never Was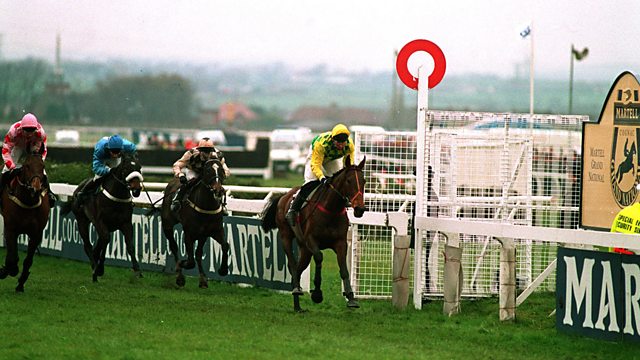 2013 marks a series of anniversaries for the Grand National which we are going to reflect on Wednesday night's 5 Live Sport. Two of them, in 1983 & 1993, hold great significance for Jenny Pitman, the first lady of Aintree.
The trophies at her home in west Berkshire bear testament to her stellar career - Cheltenham Gold Cup triumphs and a full house of Grand National wins in Scotland, Ireland, Wales and twice at Aintree.
The first of those, in 1983, is also marked with a simple plaque on her garden wall which says 'Corbiere.' She became the first woman to train the winner of the world's most famous race when Corbiere beat off the challenge of the fast finishing Greasepaint.
She was watching with her siblings as the race unfolded and a few fences from home her brother was already confidently predicting history was about to be made - which understandably Jenny thought was goading fate - while her sister, Mandy, burst into tears at the enormity of the impending achievement.
Jenny Pitman tells us tonight that such was the press interest in her immediately after the race that at one stage she made her excuses, was allowed by the ladies of Liverpool gracefully to queue barge (they knew exactly who she was) nipped into the loo to have a cigarette and slumped back against the door to reflect on what she'd just done.
You can still hear in her voice thirty years later the intense pride in her horse on that day.
Ten years later she had three horses running in the National and one of them, Garrison Savannah who'd won the Gold Cup two years earlier, was highly fancied. She tells us that she felt something wasn't quite right about the day right from the start and that it was only because it was a racing crowd at Aintree that something nasty didn't happen as the true farce of the void National unfolded.
Her horse Esha Ness 'won' the National that never was - a race she calls "a nightmare." The seeds of the void race were sewn a year earlier but not picked up.
Tonight we'll also recall the 1973 race when the top weight Crisp was reeled in by a horse just making his reputation, Red Rum, and we'll look ahead to this year's race.
The National That Never Was is part of Grand National night on 5 live from 7.30pm, Wednesday 3 April. Listen live or download the programme after broadcast. 
Hear a preview clip of the programme.