Andrew Thornton - The day I won the Gold Cup
Andrew Thornton, who won the Gold Cup on Cool Dawn in 1998 answers our questions on what Gold Cup day is like for the jockey of the winning horse.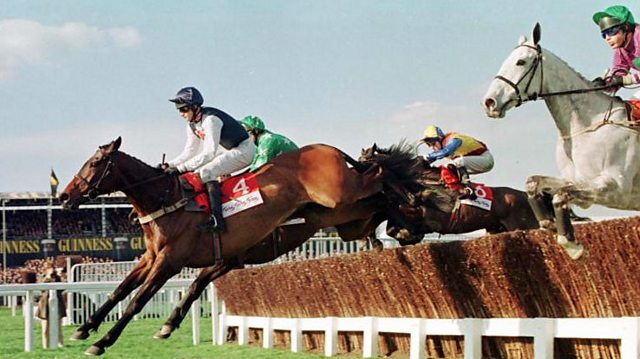 What is Gold Cup morning like for a jockey?
It's like any other morning. You have a read of the newspapers to size up the competition.  With a big race like the Gold Cup; you play it over in your mind.  If you're on a front runner you work out more positive tactics and try to get an idea in your own mind of how the race will be run.
Did you know when you woke up that you were riding the winner?
In a word, no! I was just hoping for a good ride, there wasn't a lot of pressure going in. Back in 1998 my horse Cool Dawn was a 25-1 chance. He was a front runner, so I just thought I'd get him in a good rhythm.  I'd had a great season that year and I'd had a winner on the second day which had taken the pressure off so I was able to enjoy myself.  I was full of confidence and things just flowed.
How do you deal with nerves?
I think nerves are just part of the Gold Cup.  If you don't get nervous in a race like that there's something wrong. It's our equivalent of the Olympics and you've just got to try and channel the nerves in the right direction. Once you're on top of the horse the nerves disappear, you concentrate the mind and just get on with the job in hand.
How do you cope with the pressure that people have bet on your performance?
It's not my money. You can't let what other people do affect you.  It's all about winning to us, nobody remembers second.  All you want to do is win races. 
What goes through your mind as the horses line up?
You're just thinking about getting a good position, where you want to be to get a good start, whether you want to be in the middle or outer. You concentrate on the starter, when he's getting on the rostrum. Then you just make sure you get a good break and a good jump at the first fence. That's very important to set you up for the rest of the race.
How can you predict what other horses might do in the race?
You make sure you're not following a horse that's a bad jumper; you don't want to be behind anything that might impede you during the race. You basically try and get yourself in your own little bubble and not try and worry about the other jockeys too much.
What did you see/hear?
You don't hear anything apart from other jockeys shouting.  Even halfway up the run in you don't hear the crowd even though they're roaring.  Once you're in the race concentration levels are one hundred per cent.  The first time you hear the crowd is when you pull up and you can take it all in. 
As a child did you ever think you'd win the Gold Cup?
I'd always dreamt of it and I'd always hoped I'd get a chance.  Every jockey's dream is to win the Gold Cup and the Grand National.  We've performed fifty per cent of it so far, just the other fifty per cent to go.
What races are you in today?
I'm in the Grand Annual which is the last race of the day on a horse called Tatenen.  He's won a couple of times at Ascot in the last couple of years.  He's dropping back to two miles today so I'm hoping we're going to get a deluge of rain in the afternoon to blunt the speed of the other horses and allow his stamina to shine through.
Who's going to win this year's Gold Cup?
I like Bobs Worth, he's the one I'd want to be on.   He's four times round the course; he's won four out of four round there.  He's won six races out of six going left handed.  He ticks all the boxes for me.
 5 live has full coverage of The Cheltenham Festival