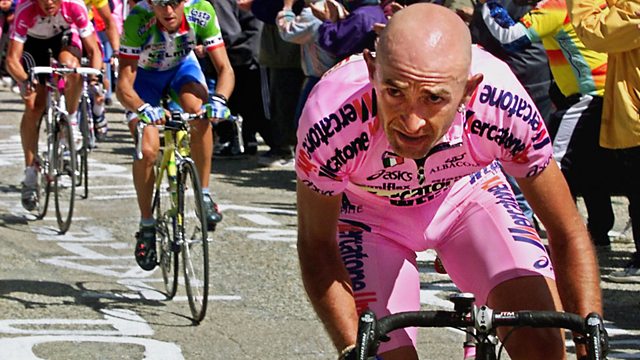 I thought long and hard about how to describe the great, yet fatally flawed Italian cyclist Marco Pantani.
In the end, a quote from writer and journalist Matt Rendell summed up everything I was trying to say:
"Italy adored Pantani as England did Paul Gascoigne, and as with Gazza, that affection evolved over the years: initially, he dazzled with his sporting talent; later, he surprised with his vulnerability; finally, he appalled with his transgressions.
"Pantani, the great climber, full of subversive trickery, with his bent nose, ears which stuck out and bald head wrapped in a bandana that he would throw down before each Promethean acceleration."
That's the Pantani I grew up adoring, even though I lived more than a thousand miles from his place of birth.
His nickname was 'Il Pirata' - the pirate. It was the perfect nom du guerre to match his romantic, almost quixotic style.
And it wasn't just me. Pantani was the hero of a nation, an iconic figure in a sport full of bad morals and worse drugs.
Relentless in his ability to soar away from the peloton on the biggest stages of the greatest races, he was regarded as the only man capable of challenging the dominance of Lance Armstrong.
His solo ride to the top of Alpe d'Huez in the 1995 Tour De France remains one of the sports' most remarkable feats, and his battle with Armstrong to the summit of Mont Ventoux five years later, although tarnished forever, pitted two remarkable pharmaceutical creations against one another, mano-a-mano. It is still incredible viewing.
In 1998 Pantani won both the Giro d'Italia and the Tour De France, something few cyclists ever attempt let alone succeed at. Fifteen years on from that incredible double win, as 5 live Sport gets set to broadcast the Giro for the very first time, we look back at his tragic career, at what he meant to Italy and how his legacy is viewed now in a sport whose landscape has changed so dramatically since his EPO fuelled achievements.
Marco Pantani died alone in a hotel room in Rimini in 2004 of acute cocaine poisoning. He had gone from a two wheeled legend to a lost, defeated shadow of the man who had charmed a sport and enthralled a nation.
Lance Armstrong once said: "I always thought he was more of an artist than an athlete - an extravagant figure, a Salvador Dalì.
"That's why people were so fond of him."
We'll talk to his mother, Tonina and his friend Enzo Vicennati, as well as Matt Rendell whose book The Death of Marco Pantani won the National Sporting Club Book of the Year as we try and define his standing in a sport as flawed as he was.
5 live Sport's The End Of A Troubled Ride at 10pm on Wednesday 1st May. The programme will be available to download after broadcast here.