Killing Eve: What the reviewers think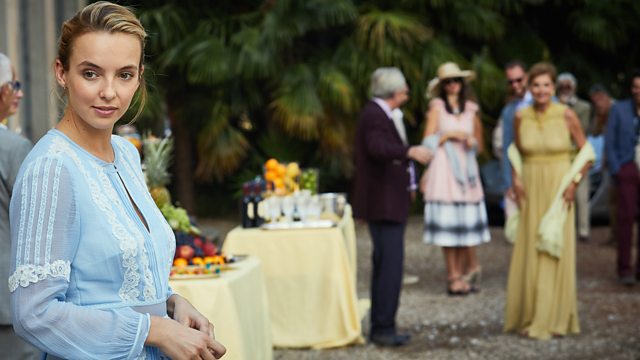 (Photo credit: Sid Gentle Films)
BBC Radio 5 Live Afternoon Edition's TV reviewers this week are Scott Bryan from Buzzfeed and TV critic Joe Michalczuk. They are sharing their thoughts on the new BBC series Killing Eve, which is based on the books by Luke Jennings and stars Sandra Oh and Jodie Comer.
What did you think? Leave your reviews below...
Scott says "It's my favourite TV show of this year"
"There is nothing else quite like it on TV.
"Phoebe Waller-Bridge is loved because she writes characters and she writes stories that you don't often see on TV. What this drama does, is goes against all the conventions of a drama that you'd normally expect.
"The amount of times I've seen a spy thriller involving a guy who's normal, serious, moody, tense - it makes you feel quite cold, and it's very predictable.
"This is completely against all of those things.
"It's warming, funny, engaging - it has fantastic pacing.
"It's set in multiple countries, it's got interweaving storylines, it has two lead characters that are equally fantastic. You've also got supporting actors who are equally as interesting."
Joe says "I hated it. It felt like a hot mess of a TV show."
"It's a cat and mouse thriller. I hated it. I honestly did try and I came out thinking 'what's the point of it' - it felt like a hot mess of a TV show to me.
"It has a massive following in the States and Emmy nominations, but I just found it tonally all over the place. It was cartoonish, it was also trying to be overtly dramatic in places and that just fell completely flat for me.
"It is undoubtedly funny in places. The humour just didn't save it for me.
"I loved it when I could turn it off at the end.
"Conventions exist for a reason, but when you're taken down a road where it's not good at comedy and it's not good at drama and it's just in the middle, then what's the point?
"It has to excel at something and for me it excelled at nothing."
Killing Eve is on BBC One on Saturday at 9.15pm and will then be available as a box set on BBC iPlayer.
TV club is on 5 Live's Afternoon Edition every Monday from 3pm.
Click here to catch up with all of our film and TV reviews.
Watch the full Killing Eve review on BBC Radio 5 Live.