5 live's Homecoming: Presenters return to their roots
5 live's presenters are returning home next week to look at the big issues facing the areas where they were brought up.
First to make a return to the place where his career started is Drive's Peter Allen. He'll broadcast from Basildon on Monday 26 November.
Here Peter explains why he's chosen to return to the Essex town: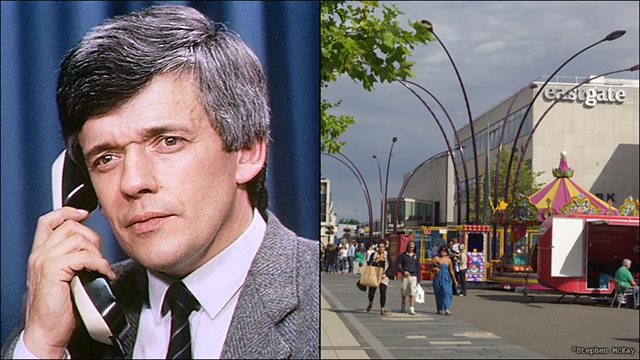 Peter Allen as a correspondent in 1989. Basildon town centre 2011.
"Basildon was part of a social experiment when I worked there, literally a new town built and slapped down in the middle of Essex.
"It had new houses and factories for the residents to work in and shops of course. But somehow it has precious little soul.  
"After learning my trade on the Basildon Standard I moved on as a reporter and I have not been back to the town since.
"I am fascinated to know what became of Basildon. Has it worked? Is it a good place to live? Does it have decent shops, good pubs and a thriving sports scene?  
"Do the people go out into town on a Saturday evening or do they go somewhere else? I'll be exploring whether the experiment has worked."
You can hear more on Peter's impressions of Basildon on 5 live from 4pm on Monday 26 November. He'll be looking at the rise of the Essex Man and will speak to Basildon based Olympic gymnast Max Whitlock.
Soon to come more: personal accounts of 5 live Breakfast's Nicky Campbell talking about his memories of Edinburgh, Richard Bacon on a return to Mansfield, Stephen Nolan on his home city of Belfast and Dotun Adebayo on returning to Tottenham.