Black Earth Rising: What the reviewers think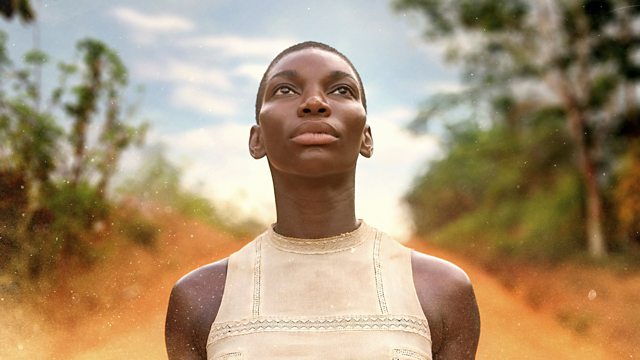 BBC/ DRAMA REPUBLIC
Afternoon Edition's TV reviewers this week are Scott Bryan from Buzzfeed and TV critic Joe Michalczuk. They are sharing their thoughts on the new BBC thriller Black Earth Rising, which stars John Goodman and Michaela Coel.
What did you think? Leave your reviews below...
Scott says "One of those ones you have to put down your phone for..."

"I really like dramas that deal with such important topics. It's not a topic that - I think - a lot of people are familiar with. You'll have to pay attention to it - but that's not necessarily a bad thing.
"The premise is quite complicated - a Congo leader who's been taken to the court to be tried on some of his alleged crimes against humanity in the Congo. But then it's brought in that he helped stop the Rwandan genocide. So you've got the legal basis for the show.
"What they've done really quite well here is have this personal story that's woven in. The main character, Kate, who is brilliantly played by Michaela Coel, is an adopted daughter who was rescued by a lawyer from Rwanda during the genocide. And now she's suffering this conflict of interest because her mother is trying to prosecute a guy who she thinks shouldn't be prosecuted.
"So you've got this mother-daughter relationship that really drives the whole ethical dilemma about whether it is right to intervene in a state - and who is the arbitrator of truth.
"This is something that you'd normally expect from a documentary. But I think drama, in this way, helps shine a light on an issue. I was able to tell that this has been meticulously researched into ensuring that it's not trying to make sweeping generalisations."
Scott Bryan is TV editor for Buzzfeed.
Joe says "It was a tough watch"
"It was a tough watch. It's a very dense, intelligent, complex piece of television.
"The opening episode, I found very dense, there was a lot to absorb, the plot is complicated, it needs a lot of set up. I'm not here to knock intelligent, complex television.
"It felt for me very much like a morality tell for our time - dealing with the West's, sometimes thorny, historical relationship with Africa - it felt very on the money for Britain.
For me, it was exactly the type of drama the BBC should be making and as such it deserves you to watch it."
Black Earth Rising is on BBC Two on Monday at 9pm and will be available on the BBC iPlayer.

TV club is on 5 Live's Afternoon Edition every Monday from 3pm.

Click here to catch up with all of our film and TV reviews.
Watch the full Black Earth Rising review on BBC Radio 5 Live (PIC BBC/ FORGIVING EARTH LTD)