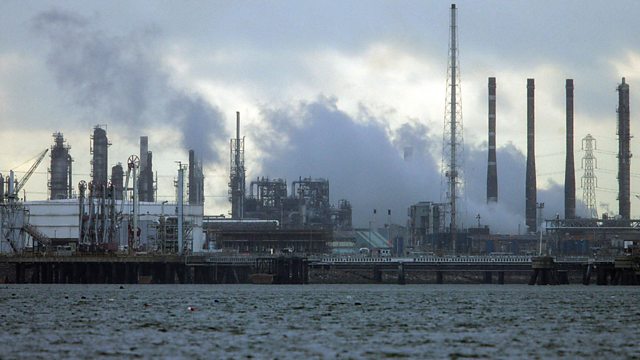 Redcar steel works
About 14 years ago, I worked in Middlesbrough. Business was good. The nearby steel and chemical industries were the area's top employers and the construction of call centres was creating thousands of jobs.
The song "We are Teesside, we're the future, we're the pride" was played to anybody who cared to listen to it and Boro were still in the Premiership. Times have changed.
The steel industry employs hundreds not thousands, the call centres are all but gone, the songworm used by Teesside Development Corporation has disappeared, and Middlesbrough are four years into relegation.
In a region with more people looking for work than anywhere else in the UK, Middlesbrough has the highest rate of unemployment. If you're a jobseeker here, life is tough.
I went to meet 18-year-old Hayley Connor who wants a job in retail. She told me that over the past few weeks, she's applied for 40 positions. She's only had two job interviews and 35 of those companies haven't even emailed her back.
Mike Bailes is 28. He wants a job in the hospitality industry. For the past six months he has sent out at least one CV every day and, on average, has applied for 12 advertised jobs a week. He has never had a job interview. It's baffling.
'Competition is tough'
Latest figures from the Office for National Statistics suggest there are almost 500,000 jobs out there: 98,000 in Hayley's sector and 52,000 in Mike's.
Shop workers or bar staff don't necessarily need specialist qualifications. So why are Hayley and Mike still unemployed?
Businesses are becoming more demanding according to John Salt from totaljobs.com. He told me employers want somebody who can hit the ground running. They don't necessarily want to spend time training them up. Some jobseekers are choosy too.
Recruitment consultant Jo Hand says many shop or bar positions are part time and not worth people giving up their benefits for.
The idea that there are almost 500,000 vacancies out there is surprising, but for many jobseekers here in Middlesbrough, that doesn't fill them with optimism. There are still eight people for every job. The competition is tough.
Hear Fiona's full report on the latest unemployment figures in 5 live Drive.