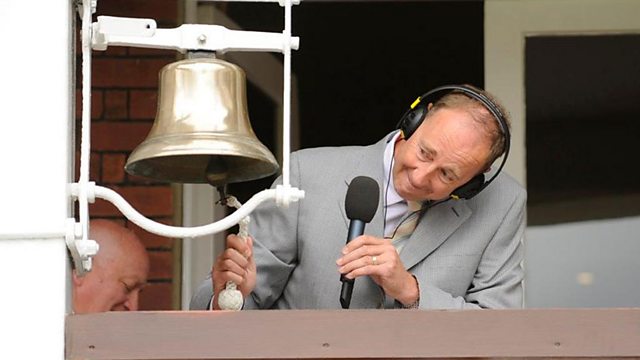 Some people have told me that I have one of the best jobs in the world as the producer of Test Match Special.
It is true that I get to sit at international cricket matches, listening to my favourite radio programme with an almost constant supply of cake!
But then again I do also have to work with Geoffrey Boycott.
However, there is no doubt that I feel especially fortunate this summer with such a potentially thrilling six months of cricket ahead.
Later in the summer we of course have England's defence of The Ashes so look out for details of our exciting coverage across the BBC.
There is also the Women's Ashes played for the first time over both Test and limited overs games, and TMS will have coverage of all matches.
Before that the eight best men's teams in the world will gather in Cardiff, London and Birmingham for the ICC Champions Trophy next month.
TMS will have commentary of ALL fifteen matches in the tournament, which includes mouth-watering ties like India v Pakistan and the first meeting of the summer of England and Australia.
But the international season starts with the visit of New Zealand who are determined not to labelled as merely an aperitif for what is to follow.
There is plenty of extra spice to the Kiwi tour after they enjoyed the better of their home Test series against England.
We had a remarkable number of listeners who stayed up through the night gripped by the drama as messrs Bell, Broad and Prior somehow kept New Zealand's bowlers out to force a famous draw in Auckland.
Hands up how many of you leaped out of your beds when Monty Panesar dived to make his ground amid unbearable tension at Eden Park?
The Test Match Special team on duty at Lord's this week will be led by Jonathan Agnew with Henry Blofeld, Ed Smith and Bryan Waddle sharing commentary duties.
Our expert summarisers will be Michael Vaughan, Phil Tufnell, Geoff Boycott and the former New Zealand captain Jeremy Coney. TMS favourites Simon Mann and Vic Marks will be on duty later in the summer.
Although there is plenty of excitement ahead of the summer there is a rather bittersweet feeling in the TMS box as this is our first home series since the death of our much loved colleague Christopher Martin-Jenkins.
He might have been a nightmare to produce at times with his eccentric time-keeping and technophobia, but I dearly wish we could hear CMJ's rapid steps and crash through the commentary box door again as he realised he was late for yet another spell.
It is a symbol of his importance to the game that the beautiful memorial service held at St Paul's Cathedral last month was massively oversubscribed.
The service was a perfect tribute to CMJ in every way, except that it began and ended on time. We will play some excerpts from the memorial on Test Match Special this week.
Our first View from the Boundary guest of the summer will be comedian Andy Parsons of Mock the Week fame, we'll review the ECB Player of the Year awards, hear a special interview with Stuart Broad and find out why a Russian chess grandmaster is turning up at the home of cricket.
There is no excuse for missing a moment of TMS this summer with our coverage on 5 Live Sports Extra, Radio 4 Long wave, online Worldwide and now via the BBC Radio iPlayer App. So you can literally take Geoffrey Boycott with you this summer…should you wish.
Plus Aggers and Boycs wll round off each day with the Test Match Special Podcast.
Anyway – I would love to tell you more, but I have lots of very important things to get ready before the Test starts…Now where did I put that cake knife?
Adam Mountford is producer of Test Match Special. The programme returns on Thursday 16 May at 10.45am for the 1st Test between England and New Zealand.