Twenty minutes with Liam Gallagher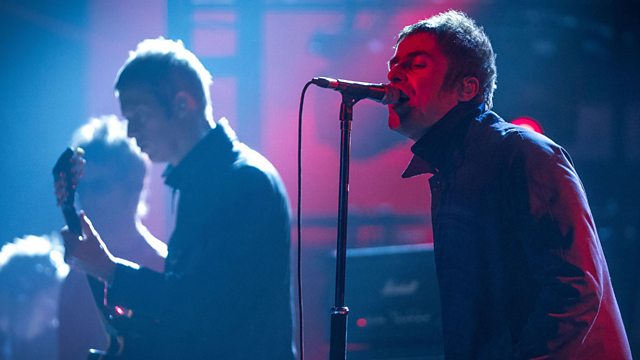 "We should be playing at the Etihad three nights, not some ******* fat ******* idiot."
Liam Gallagher's back in town. The former Oasis frontman with the simian walk whose mouth is capable of belting out as many rock 'n' roll classics as it is insults and swear words. Last week we played a preview clip of tonight's full interview with Liam where he reignited his feud with Robbie Williams. There were 16 bleeps in just 1min 40secs.
I first interviewed Liam Gallagher when Oasis were very much still an item. He and his brother Noel were playing a benefit gig for Kosovan refugees at the Forum in Kentish Town. My job was to interview all the artists for Radio 1. I won't forget the date as it coincided with Manchester City's second division play-off against Gillingham. Both the Gallaghers had been there, and after 87 minutes City were 2-0 down.
Goals from Horlock (90) and Dickov (95) secured extra time and penalties. As Noel was busy telling me how he had to shin a wall to get back into Wembley because he had left at 87 minutes, Liam walked into the dressing room - fully refreshed, shall we say.
"Stop asking our kid about the new ******* album," he cried. "Ask him about City." I explained to Liam that we were talking football, but having none of it, he ripped the microphone out my recorder and ran off.
Fast forward to 2013, and I am offered another chance to sit down with Liam and bandmate Gem Archer. Both are now in Beady Eye, following the now infamous Oasis split. Noel went one way; the rest of Oasis went the Beady Eye way.
"BE" is their second studio album but in a far cry from the Knebworth heyday of Oasis, Beady Eye are playing just three small venues in Manchester, London and Glasgow before a sprinkling of summer festivals.
"Beady Eye ain't a big band," snarls Liam in his first answer to me. "Everyone thinks we're going to announce big ******* stadiums. That [The Ritz in Manchester] is the level we're at, and we'll stay at that until you pull your ******* fingers out and buy the ******* records."
During an interview you can tell a lot by the first answer. Whether a contributor is willing to play ball or not. This answer was not as defensive as it reads. I fully expected it to be something along the lines of, "Why you asking that you (insert swearword of choice here)?" But here was a man who was willing to counter the idea that he was no longer as big as he once was.
He continued in fluent, sweary form for the rest of the twenty minutes we were allocated - in celebrity interview time this is generous to say the least.
Angry, aggressive, rock 'n' roll, call it what you will. But on this occasion, he was nothing but accommodating. He was blunt, honest and didn't deflect any of my questions. In another credit to his management, nothing was off limits. Quite frequently now, you'll be told, "No questions about [insert subject of controversy]" None of that when you interview Liam Gallagher. You ask him what you want, and you hope that amidst the fog of f-words in his response, that he doesn't run off with your microphone.
Having had my full 20 mins with him, I felt brave enough at the end to point out that it had gone a lot better than our previous encounter in 1999. I told him he had run off with microphone, and he fixed me through his sunglasses and asked, "Did you get it back? You got it back though?" "Oh yeah," I replied.
Liam: "So what you ******* moaning about then?"
He stood up. Slapped me on the shoulder and said, "Good ******* interview, that."
Hear the full interview with Liam Gallagher in Phil Williams' show at 10.30pm on 24 June.