Footballer of the Year or a savage and a lout?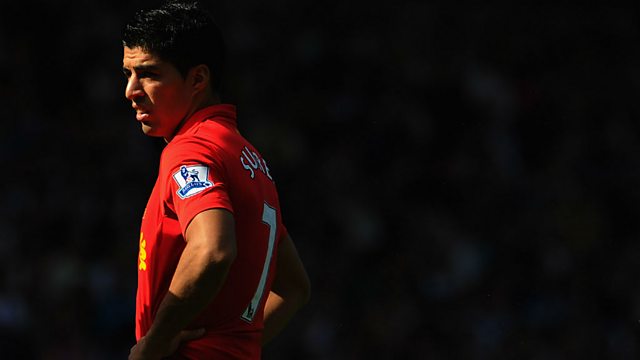 No current footballer divides opinion like Luis Suarez.
There are no grey areas. You're either with him or against him.
Given the outrage triggered by his bite on Chelsea's Branislav Ivanovic – the second of his career, remember – it seemed highly likely that former colleagues and team-mates would all go to ground.
A friend of mine, a Liverpool fan since the Shankly era, emailed me in the aftermath of the Chelsea game, "media hype succeeds and judges a peck on the arm, which didn't mark or break skin, a worse offence than lunging two footed challenges and violent stamps."
I knew he'd take a strong line in support of Liverpool's latest number seven. But what about the people who knew him and worked with him at his clubs in Holland?
At Groningen, where aged 18 he'd spent one season, before leaving under a cloud for a fee decided only after arbitration?
At Ajax, where his penultimate game, before leaving for Liverpool, had seen him bite the PSV Eindhoven midfielder Otman Bakkal in 2010?
What about Bakkal himself, now playing for Dynamo Moscow?
We've made contact without getting an interview. Yet. There's still time. But other key players in the Suarez story were happy to talk to us.
Football people like Ajax team manager Herman Pinkster, FC Groningen Technical director Henk Veldmarte, former Groningen team-mate Hugo Alves, and Ghana's world cup striker Dominic Adiyiah. And they helped to build a picture of a player with so many contradictions.
A man, we learnt, who's meticulous about punctuality. You arrange to see him at 09:00, and if you're a moment late he'll want to know why.
Tell him you'll do something for him, and he'll be on your case if there's any delay.
A teenage striker who convinced representatives from FC Groningen they had to sign him just 15 minutes into the first match they'd watched him playing for Nacional in Uruguay.
A captain at Ajax who made it his business to welcome new young players into the dressing room, toning down the initiation rituals for their benefit.
A proud Uruguayan who keeps the only key to the room in his house in Montevideo which serves as a museum for his career. Entry is by invitation only.
The presenter of the Dutch equivalent of Match of the Day, Tom Egbers, described him as "charming, always friendly, unlike so many footballers.
"He would always give an answer, never nasty or aggressive."
A former amateur footballer himself in Amsterdam, Egbers put him in his top three of Ajax stars along with Johann Cruyff and Marco Van Basten adding "In terms of spectacular football, he tops the bill."
So what's not to like in a player who scored 91 goals in 139 appearances in Holland and draws such compliments?
Henk Veldmarte who recommended his signing in June 2006 reflected on his talent like this, "He's a grown up person but the way he likes playing football sometimes also has the mentality of a child."
One of his closest friends in Europe is Herman Pinkster, who helped him settle in Amsterdam. Among a number of telling insights, he offered this gem. "We really had to adapt. We had never had a player that was so determined to win games, to focus like a soldier in a war to win the points."
Pinkster who was honoured to be invited to attend the Uruguyan's wedding recalled a crucial game near the end of one intense title battle. Ajax won ugly 1-0 but that wasn't good enough for the captain.
"He was so angry that Ajax had played badly.
"The coach tried to calm him down but he could not enjoy the moment of winning, (he was) so disappointed in the performance. "
Pinkster is also revealing within the programme about how he and the club tackled Suarez when this 'winning mentality' became something darker, more devious.
Desire for victory
It was a theme first explored by a former Groningen team-mate, Hugo Alvez from Brazil who'd acted as his interpreter and guide on Suarez' arrival. We were sitting in one of the bright new executive lounges at the club's 22,000 capacity Euroborg stadium - rather like the Madjeski Stadium only with green seats - two hours outside Amsterdam. (I had to ask Hugo questions in English and he answered in Portuguese. So I had to believe that his answers were not about his favourite music, food or underpants.)
His answers lost nothing in translation. He likes and admires Suarez very much.
"But when he was on the pitch, everything changed. The desire for victory is with him at every moment," he said.
 "That is why sometimes for some people he seems to go over the limits.
"To help his team to win he can do things that other players would never do.
 "In the middle of an emotional game, he can vent it in a wrong way."
Alves condemned the bite on Ivanovic but his next answer also carried echoes of my friend's email. "Sometimes I see people tackling violently with clear intention of breaking the opponent's leg, which is much worse than to bite someone.
"And those players get (a) one, two game ban, when the intention was just one­ to break, to destroy physically their opponent.
"And Luis with this kind of attitude can bite someone…of course it is against the law.
"But I see players with a much worse intention who do not get the same kind of stick Luis gets."
'Never do it again'
Tom Egbers challenged Suarez over the original biting incident in 2010. And he still remembers the conversation.
"He told me 'I want to win. I do not approve of myself but I desperately need to win and I'll do anything to win. Anything.'
"Something in his brain happens. He genuinely apologized to the player, and humbly accepted the seven game ban.
"He said he would never do it again." Right.
Ghana's Dominic Adiyiah who spoke to us from Ukraine and whose header Suarez saved on the goal-line with his hand to keep Uruguay in the 2010 World Cup told us, "He needs to grow up."
Perhaps Herman Pinkster is the closest to understanding what makes Suarez such a compelling, controversial personality.
"He'll always be the boy from Montevideo."
What's Eating Luis Suarez is at 7.30pm on Wednesday 1 May on BBC 5 live. The programme will be available to download here after broadcast.