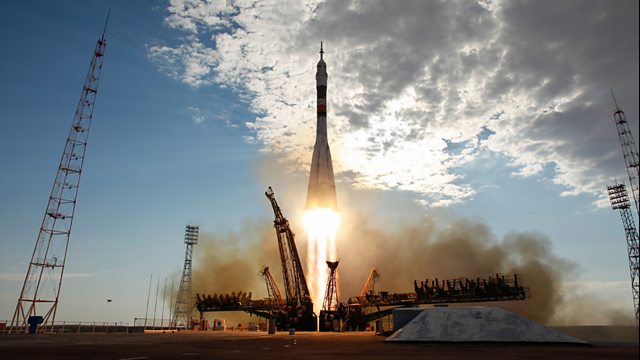 How many people have travelled to space? Any ideas? Since Yuri Gagarin became the first man in space in 1961 less than 600 others have joined his exclusive club. That number could increase rapidly in 2014 if private firms manage to carry out the first successful commercial flights to the edge of space. 
As 5 live's main technology show, Saturday Edition regularly looks at developments and plans for space travel – and on Saturday 22nd, we're taking a deeper look.
Many more people will soon be able to experience a spaceflight, a prolonged period of weightlessness, and to see Earth in a way few people have before. Virgin Galactic are, of course, leading the new commercial space race, but it's by no means certain that they'll win. Hot on their heels is a Dutch company called Space Expedition Corporation (SXC), and there are many, many others.
You'll hear from Michiel Mol from SXC and we've also been speaking to Virgin Galactic's CEO and former NASA chief of staff George Whitesides. You'll also hear from a much smaller British operation, Starchaser, who are working on their own rocket capable of carrying a crew.
But could anyone now become an astronaut (the so-called 'right stuff' of the Tom Wolfe book) with the right physical and mental characteristics to do the job?
We'll ask ESA astronaut Paolo Nespoli  just that. He's a fascinating man with some eye-opening insight into just what it takes. Obviously, space is not without its dangers too, and Dr Kevin Fong, co-director of the Centre for Altitude, Space and Extreme environment medicine at University College London, will explain just what weightlessness (and solar radiation) can do to the human body.
Co-incidentally, there are two big space anniversaries to celebrate this week. Fifty years ago, Valentina Tereshkova became the first woman in space, and 30 years ago this week, Sally Ride became the first female astronaut.
Britain's first astronaut was Helen Sharman – and yet, if you tot up the number of astronauts, cosmonauts and taikonauts who are female, it's only a very small proportion of the total number.
But things are changing, and 2013 is shaping up to be a good year for female space crew. Two of whom are in orbit, above our heads right now.
One of those women is Wang Yaping of China, who's currently working on the Tiangong 1 space station. We'll find out more about China's space ambitions from the author of China in Space, Brian Harvey.
One of China's aspirations is to land on Mars by 2050, but the red planet is also in the sights of other companies, and other governments. President Obama spoke about the USA's aim to have a base on Mars even earlier by 2030.
You'll hear from the team behind Mars One, who say they'll have a Mars colony up and running by 2023. Thousands of people have already volunteered for it – but I warn you, it's a one-way trip.
And lastly what of the future? You'll hear from the Astronomer Royal, Professor Martin Rees, who will give his view of human exploration and colonisation of the solar system and beyond…
So join us on Saturday– we've got quite a trip planned for you. 
You can listen to Saturday Edition from 7pm on Saturday 22 June. The podcast, Let's Talk About Tech, will also be available to download after the programme. To subscribe click here