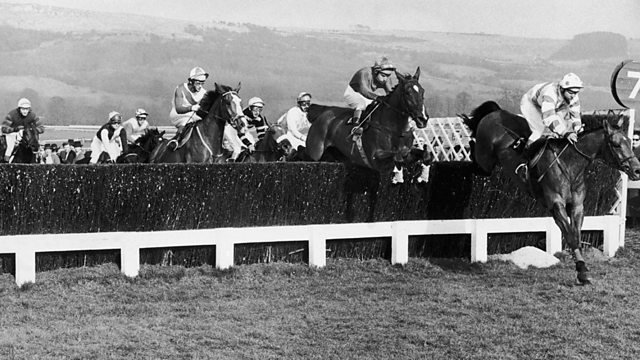 The field at Cheltenham in 1972
A long long time ago, when David Bowie really was good, I slunk away from school one Thursday morning break, and went down to Bristol Temple Meads station to get the train to Cheltenham to see the Gold Cup.
It is that long ago that all the carriages had compartments with doors - you only see them in movies these days - and sliding in to one, a solitary figure in the corner looked up from behind his copy of the Sporting Life. Our eyes met. A heart pumping, throat drying, knees knocking kind-of-a-moment. A teacher at my school. He uttered six words and the grey skies turned blue, "I won't tell if you won't."  And he went back to the Sporting Life.
Just one of a thousand memories since first going to the festival in 1972.  It has snowed at Cheltenham over that period, most memorably on the day The Thinker won the Gold Cup.  And there have been occasions when incessant rain has attempted to drain the last vestiges of enthusiasm from every racegoer's vault of Cheltenham passion.
But for the most part, my image of Cheltenham is that opening Tuesday - a chill bright day signalling the official end of winter and the onset of spring -  and an overwhelming sense of excitement and anticipation at the drama that is about to unfold.
The best horses, the best jockeys, the best setting, the most enthusiastic and knowledgable of spectators sealed into the valley beneath Cleeve Hill, almost oblivious to the outside world for four days.
From a BBC perspective, terrible news tragedies have occurred over the years during the festival which have made Champion Hurdles and Gold Cups appear very incidental, and often we've been fighting for airtime against a succession of chancellors raising excise duty on booze and fags in their budgets, but our ambition remains to make it four days of racing on the radio that engages even the most ambivalent of listeners, who must surely tingle, just a bit, as John Hunt describes a tight finish between two horses they might never have heard of.
Cheltenham has changed a lot over the years, and it's now bigger and better and more corporate, but it's never lost its soul.  If you're thinking of skipping off school or work next week,  I for one am in no position to condemn.
5 live's Cheltenham coverage begins on Tuesday 12 March, there is also coverage on the BBC Sport website.
Download a preview of Cheltenham with Eleanor Oldroyd, Cornelius Lysaght and Cheltenham Gold Cup winning jockey Andrew Thornton.