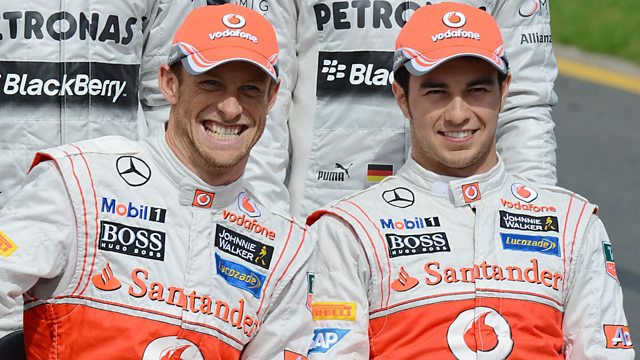 There are times when normally mild, pleasant and friendly drivers are pushed to the limits. Sunday was one of those days for the McLaren driver Jenson Button who ended up having to fight his own team-mate, Sergio Perez at over 180 miles per hour.
This season we have seen some pretty fierce rivalry between team-mates. It started with Sebastian Vettel and Mark Webber duelling in Malaysia and the whole 'multi-21-gate'. Then there was the Mercedes pair of Lewis Hamilton and Nico Rosberg (although they seemed to settle their on track tussle without coming to blows).
In China, it was the turn of the Sahara Force India drivers to take 10 paces and trade handbags at dawn as Adrian Sutil and Paul di Resta battled for position against each other and almost suffered the price of taking each other out of the race.
This time round it was the turn of the McLaren pair. Midweek Martin Whitmarsh had told his young charge, Sergio Perez, to toughen up and take a more aggressive approach to life in F1 this season. It seems the advice was taken as the Mexican's elbows came out and he almost come to blows with Jenson Button.
A little too aggressive maybe? Certainly it seemed that Jenson thought so as he spoke to the team on his radio "He just hit me" came the cry over the intercom. It was certainly explosive stuff and right after the race I spoke to both drivers and Martin Whitmarsh.
First Jenson Button had his say, "It was a fun race – lots of good fighting, most of it clean. The only person who wasn't was my team-mate, so surprising. I wouldn't say it was aggression, just something you should learn in your early formulas.
"Banging wheels at 300 kilometers per hour isn't something we do in Formula One normally, so it's a new thing to me. Maybe this is the way we go racing now I don't know but its not the way I want to go racing."
There was no sign of contrition from Perez though and when I spoke to him he had a very large smile across his face and seemed happy to celebrate his highest finish with the team - sixth place, "I think today was a little bit too hard the fight between me and Jenson. We touched a few times but you are just there and you have adrenaline and you want to take the place from your team-mate but definitely I think it was a little too much.
"I think I was too aggressive but he was as aggressive as me. This is something we have to speak between me and him and not speak to the media about it."
And what did Team Principal Martin Whitmarsh make of it all....not a lot. It's racing as far as he was concerned.
"Some of the driving was marginal between the two of them but that's what happens if you allow your drivers to race. We allow our drivers to race.
"I had a lot of noise in my ear from people suggesting I should stop them but it was the right thing in the long term for both drivers to know they're racing each other."
Oh to be a fly on the wall in the meeting between the three of them.
I wonder who the next warring wheel spinners will be? Duelling team-mates seem to be all the rage this season.
Maybe it's the turn of Fernando Alonso and Felipe Massa next, who knows? As the F1 circus prepares to return to Blighty and embark on the European season, there's certainly plenty to talk about and plenty of people being crossed off each others Christmas card lists.
Get the Chequered Flag download reviewing the Bahrain Grand Prix.