Few football clubs in Europe can match the achievements of Ajax Amsterdam. 
Four times winners of the European Cup - three in a row between 1971 and 1973 - the current Dutch champions are still renowned for their 'total football' made famous by the brilliant Johan Cruyff during their European domination.
Walking the corridors of the Amsterdam Arena past pictures of famous faces and sitting in the office of team manager David Endt surrounded by old boots and shirts and personal momentos of great Ajax names reminds you of the club's standing.
But their reputation as a Jewish club sits less comfortably at the new stadium far removed from the Jewish neighbourhood around the city's De Meer district where their old ground was situated.
And it could even lead to a challenge through the courts in the next months by Jewish groups who feel the club is not addressing the distress caused by home supporters calling themselves "Super Jews" and chanting "Joden, Joden" ("Jews, Jews") at games.
More than three quarters of Amsterdam's Jewish population died in the Holocaust. And the scars are still felt by surviving relatives living in the city.
Donald Speelman, a retired Jewish businessman stopped our interview twice because he was overcome when discussing why he stopped going to games after 50 years and why he's now fighting for action from the club.
He said that Ajax with a new hierarchy in charge, inspired by Cruyff, have acknowledged that something needs to be done.
The question is what and how. None of the people I met agreed on a solution. In fact the only common ground was that there would be no instant, lasting improvement.
Endt, a former player before his current role told me "We never chose for the position of being called a Jewish club. It came over us and that sometimes hurts us because it has bad effects."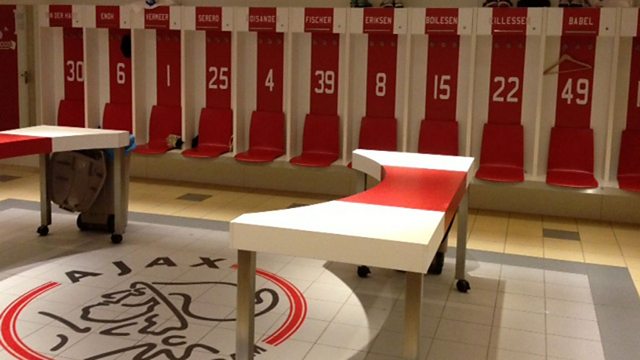 Inside the Ajax changing room
Very few of the fans let alone the players, past and present, are actually Jewish. Yet this Jewish identity is readily embraced. It's worn like a badge of honour by supporters alongside in some cases, tattoos of the Star of David.
One of the hardcore F-side fans I met in a city bar described the power of the "feeling of being Jewish" even though he and most of his friends weren't. 
Dutch film director Eddy Terstall is a longstanding Ajax fan but not a Jew. He also doesn't join in chants like "Everybody who's not jumping is a Jew".
And smiling he recounted a tale which seemed to sum up the widely held view among the Ajax following.
"A friend of mine works at the airport security and he's visibly Jewish. At one point he had to check Ajax fans on the way to an away match and they noticed. "Hey, it's a Jew". So they put him on their shoulders!"
The fun - if that's what they'd call it - stops, though, when rival fans at clubs like Feyenoord and Den Haag sing about gas chambers and make hissing noises.
And that's why Jewish groups believe changes have to come before such anti semitism becomes more overtly violent.
A former club chairman who is Jewish admitted that he and other officials haven't properly challenged this disturbing rivalry, " I failed and my predecessors failed and the mayor failed and everybody failed."
The incident of racist abuse at last Tuesday's Cup match at AZ Alkmaar made big headlines in the Netherlands.
You wonder what renewed momentum that furore may offer Ajax in tackling their issue of identity and so achieving another significant success.
Ajax - The Jewish Club is on 5 live at 9pm on Monday, 4 February and available to listen again for seven days after broadcast. It will be available here as a download.