F1 on the road - next stop Korea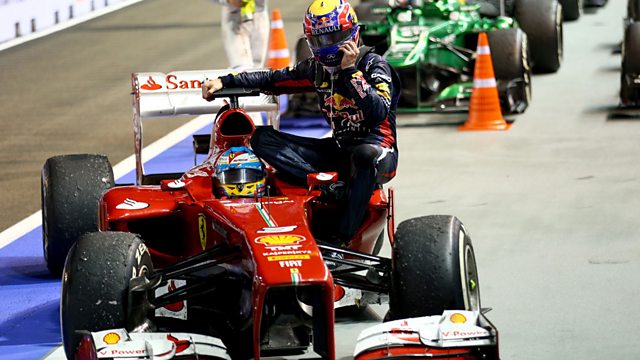 Sebastian Vettel proved his 2013 driving skills are more finely tuned than ever as he took his third straight win at the Singapore Grand Prix.
Some races are exciting and thrilling with battles from start to finish. Not this race, after the first lap where Nico Rosberg, in his Mercedes, tried to challenge Vettel it looked like it was game over.
Fortunately (for some) Daniel Ricciardo brought some excitement to the proceedings when he crashed on lap 26. From that point (with the exception of Vettel) there were some amazing battles and trying to pick a driver of the day was pretty tough.
Alonso made a fantastic start, Webber made the most overtaking moves, Kimi with his bad back drove from 13th on the grid to 3rd place. There are plenty of options. For my money Paul di Resta would have been the driver of the day coming from 17th on the grid to 6th. Alas, 55 laps of genius were wiped out with a crash that ended his race.
So Vettel was dominant in Singapore (again, having won the last two races there previously) but there were two subjects that were the talk of the paddock as the clock ticked past midnight in the sultry heat of Asia, Webber's taxi ride and superstars.
Mark Webber's race ended in a fiery mess on the final lap as his Red Bull gave up the ghost so he hitched a lift back to the pit lane with Fernando Alonso. Great scenes, reminiscent of Senna and Mansell in 1991 at Silverstone. However, there was one difference. Mark Webber walked back onto the track without the permission from the marshalls and Fernando Alonso stopped on a blind corner to pick up his mate. That forced both Mercedes drivers to take evasive action to avoid wiping Webber out. So a 10-place grid penalty for the Aussie in Korea next time out after getting his third reprimand of the season. He wasn't best pleased.
And as for superstars, I know I have one of the best jobs in the world but when it comes to Singapore under the floodlights, stars gather like moths to flames and my job has that extra special something. The grid was jam-packed with celebs and wannabe's, reporters and presenters - and of course, photographers crammed around David Beckham as if someone was handing out free money.
I was lucky enough to interview Beckham on the grid. It was quite an experience seeing the world from his point of view for a minute of my life. Flash bulbs went off in every direction and his beefy bodyguards quietly ushered people out of the way. They didn't do such a good job at getting him out the way of Romain Grosjean's car so I did that, Beckham owes me I think.
Sir Tom Jones was also at the Grand Prix and getting his first experience of Formula 1, he wasn't in the most chatty of moods when we spoke to him on BBC Radio 5 live but he did raise a smile when I asked him if anyone had thrown their knickers at him in Singapore.
Magician Dynamo was at the race too - I think many listeners were wishing he could magic away Sebastian Vettel and let someone else have a turn at the title but the Bradford born magician just waved at the fans and could do nothing more than watch on at the spectacle of Seb.
Next stop for the F1 Championship, Korea.
Catch up on the action from Singapore in the Chequered Flag Podcast.