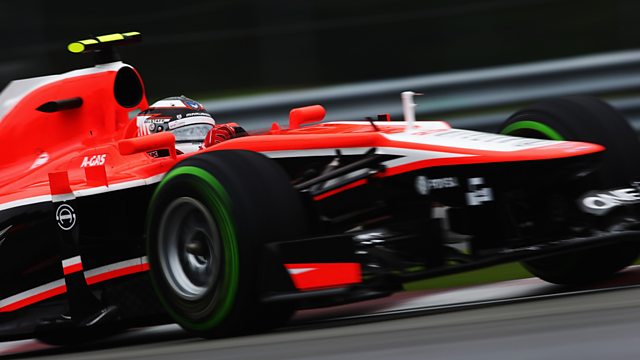 During free practice 3 at the recent
Canadian Grand Prix
in Montreal I had the chance do something I have never done before in 23 years in F1: to go on a team's pitwall stand. I've listened in on team radio and observed in plenty of garages, but never sat plugged into the famous 'prat perch' and got a detailed insight into operations.
It gave me a chance to get closer to the sport; to really understand how a team like Marussia operates. It was an eye-opener.
With Marussia technical director Pat Symonds staying in the UK that weekend, there was a spare seat on the pitwall. Marussia's sporting director Graeme Lowdon offered it to me for the Saturday morning session. I was given Symonds' radio and plugged into the main desk, meaning I could hear all the radio traffic for both Jules Bianchi's and Max Chilton's cars, along with any intercom messages on the pitwall.
It provided a unique window in on the operations of the team. It is all about clear communication and fast, clear, decision making.
That Saturday morning FP3 session was wet and the start was delayed by barrier repairs, but when it started it was all about deciding when to go onto slick tyres. It provided a fascinating case study in how a team makes a crucial decision like this.
The level of discussions and real time analysis was as impressive as you would expect. They knew exactly what everyone else was doing, how the crossover point from intermediate to slicks had been hit by Gutierrez on a sector by sector basis. At one point the engineer in charge Dave Greenwood observed, "if we were racing we'd have gone to slicks by now."
With just two hours to prepare the cars between FP3 and qualifying, the highly experienced team principal John Booth knew that he didn't want to put excessive pressure on his rookie drivers to try to set times on slicks on a cold, damp track and face possible crash damage. But at the same time, they are here to learn and those last few laps on slicks were an invaluable learning exercise.
Some experienced drivers like Webber and Alonso went out on slicks first. The track was cold and the tyres were taking their time to come up to temperature. The Williams pair went out and then suddenly the decision was made to send Marussia's drivers out. It was well judged; despite final analysis showing they waited about 90 seconds longer than was ideal they still got enough timed laps to get a sense of the conditions, should qualifying turn out the same way. In the end it was wet and they never got to slick tyres.
To help them make the vital decision on timing, the management figures on the pitwall have screens in front of them that are an Aladdin's cave of software and real time analysis tools. At the click of a mouse it was possible to view the runs of each driver to make quick and easy comparisons. There was also a tyre degradation chart, showing the drop off in performance of each car. In all there were dozens of ways to look at and analyse what was going on.
All F1 teams have their own driver tracker graphic, which shows where its cars are on the circuit. Marussia's is a circle with clear delineation points. It shows the gaps in the traffic and the cut off points for decision making, such as for when a car should come in to the pit lane. It also has a countback facility, which recalibrates timings based on the car's progress around the track.
With seven minutes to go in the session, on a damp but drying track, Greenwood knew at a glance that it was possible to complete four-and-a-half timed laps. It meant that Chilton's engineer was able to inform his driver exactly what time he had left, and so by pushing a bit harder on the out lap Chilton duly got all his timed laps in.Interestingly, while Bianchi struggled to get the slicks up to temperature in those conditions, Chilton managed it and set a good time. Greenwood is an experienced engineer; he worked with Fernando Alonso at Renault in the mid 2000s.
Marussia has a deal with McLaren for this kind of support and they have modified McLaren's system for their own purposes.
What struck me the most about the experience is the high level at which the team operates. The difference between the backmarkers and pace-setters in F1 is now the smallest it has ever been.
James Allen is BBC Radio 5 live's Formula 1 commentator. You can read more from James on his website (external link). The Chequred Flag podcast, featuring a review of the Canadian Grand Prix (recorded before the annoucement of the death of a race marshal) is available here.