At the head of the peloton with the 100th Tour de France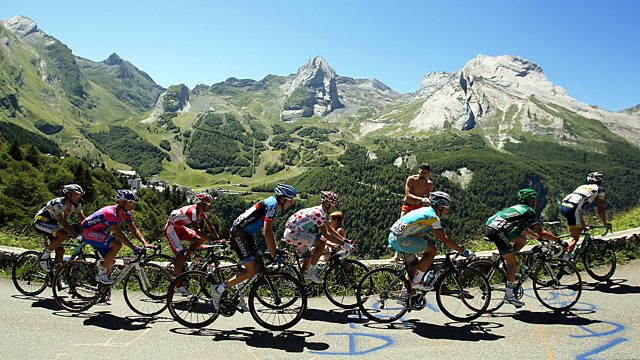 5 live will be at every stage of this year's Tour de France - the 100th in its history. Here our team talk about their expectations for the race - a second consecutive British winner? - plus how they'll bring it to you:
Simon Brotherton - Commentator: 
This will be 19th time I've covered the Tour. At first it was quite a battle to get 30 seconds on to the sports desks and now here we are with a team of four, providing full commentary on 5 live Sports Extra and the BBC Sport website every day, along with a round-up for the 5 live Bespoke podcast after every stage.
It's an illustration of how far British Cycling has come. From the days when we were relieved just to have a British rider in the race, to finally seeing a British winner of the event last summer in Bradley Wiggins.
It'll be someone else's turn this year in this special 100th edition and I'm really looking forward to seeing what the race brings and painting the pictures from the commentary box on the finish line every day.
Listen an extract from 5 live's Tour de France preview where Britain's Mark Cavendish - with 23 Tour de France stages to his name - talks about the art of sprinting:
Olie D'Albertanson - Producer:
I'm lucky enough to have produced at some of the biggest sporting events in the world: the World Cup in South Africa, Euro 2012, Ryder Cups, plus the Olympics and Paralympics last summer. However, this is my very first Tour de France. I can't wait for it all to get started.
More than any other event I've attended, this one already feels like a travelling circus - and the race hasn't even begun.
This is the 100th Tour de France, and it all gets underway in Corsica tomorrow (Saturday 29th June). It'll be on the island for three days before it takes a 12-hour overnight ferry back to the mainland to continue the journey.
The cyclists themselves will be riding nearly 2500 miles. However, the actual distance covered by everyone involved is probably more than double that; there can be as much as 350 miles between the end of one stage and the start of another.
My "office" for this trip is the back of a small people carrier which will carry all our broadcast equipment, our clothes for a month, some emergency brioche, as well as transporting your commentary team around France and (hopefully) up and down some it's most impressive mountain ranges. Due to the cramped conditions I can't help but think I've been chosen to cover this event as I'm not much bigger than a hobbit.
There are three people who will be bringing this event to life for you over the next few weeks, from the race itself to all the behind the scenes chaos: as well as commentator Simon Brotherton we have expert summarisers Rob Hayles and Graham Jones. As well as what you'll hear on air they'll be posting behind-the-scenes photos, blogs and videos here on the 5 live website.
If you have questions for the team you can leave your messages here, and for those of you on Twitter follow @bbc5live and use the hashtag #bbctdf. We will try to answers as many questions as we can during commentary.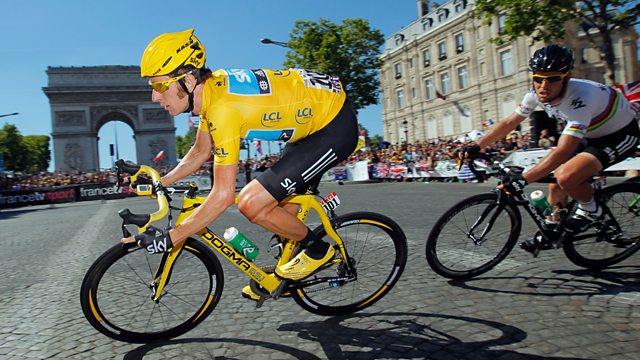 Rob Hayles - Summariser:
I'm a triple Olympic medallist, double world champion and British national road race champion in 2008.
This will be the fourth Tour I have covered, although the previous three have been from the comfort of a studio back in London. So this year I am looking forward to witnessing the 100th edition first-hand. Having warmed up this year already alongside Simon Brotherton at the Giro, I feel (almost) ready for what awaits us in France. 
The enormity of working on the biggest annual sporting event is something that can't be taken lightly. I hope we'll be able to convey the atmosphere of the Tour to everyone back home with the justice it fully deserves.
Last year the Yellow Jersey for the winner of the Tour came to Britain for the first ever time – Sir Bradley Wiggins. This year he's not in a position to defend that title, but his team is. The burden of that possibility rests squarely with another Brit: Chris Froome. Can he do it? Well we will have 21 days of coverage to bring to you before we may know for sure.
Graham Jones - Summariser:
I am a veteran of the Tour; in fact this will be my 29th. I have ridden it five times, covered it four times as a press consultant for the Guardian, Herald Tribune and the Observer, and since 1995 I've been a summariser for BBC Radio 5 live.
I was described by the late sportswriter Geoffrey Nicholson in his preface to one of his books as 'The Great Navigator'. It's a title I consider to be totally justified, as I believe I know France and all its roads better than 99% of French people!
I will be bringing you my tactical insight into the race, as well as brining to life what goes on once the microphones and cameras are packed up and moved on to the next stage.
5 live's coverage of the 100th Tour de France begins on Saturday 29 June at 3.30pm on 5 live sports extra. There will be a summary of each day's action on 5 live's Bespoke podcast, available here.