House of Cards (Series 6): What the reviewers think
(Photo: David Giesbrecht/ Netflix)
Our Must Watch TV reviewers, Scott Bryan, TV Editor at Buzzfeed and Hayley Campbell, journalist, reviewer and host of the BBC pop culture Podcast "Unpopped". They're reviewing season six of House of Cards.
What did you think? Leave your reviews below...
Scott says: "If you don't like HoC already, you're not going to be impressed"
"At the conclusion of the previous season, Claire Underwood took over power and it set up this interplay between her and Frank Underwood for this season.
"When the allegations against Kevin Spacey [Frank] came to light, he was written out of the show. Robin Wright [Claire] deserved more time in the limelight because she's the best thing in it. I wondered if there would be a 'Frank Underwood' gap, but she fills the role completely. I was thinking: why wasn't this there sooner?
"The way it's been done - they try to give the message that she was always going to be assuming power. I don't think that was necessarily true.
"I don't understand some of the main plot lines in this and I did a politics degree.
"If you don't like House of Cards already then you're not going to be overly impressed."
Warning: Third-party content may contain adverts
Hayley says: "I would only watch this out of a morbid curiosity"
"Kevin Spacey is in it like a ghost - in pretty much every scene.
"They'd already started filming when the allegations emerged and they had to pause, and rethink what they'd do. They had to start again.
"It feels like fan-fiction to me. It feels like they've written it with one-eye on the reaction gifs and the one-liners that Claire says will suit Twitter-feminism. It feels weird, it doesn't feel like House of Cards. To me, it's been failing for the last couple of years.
"I would only watch this out of a morbid curiosity."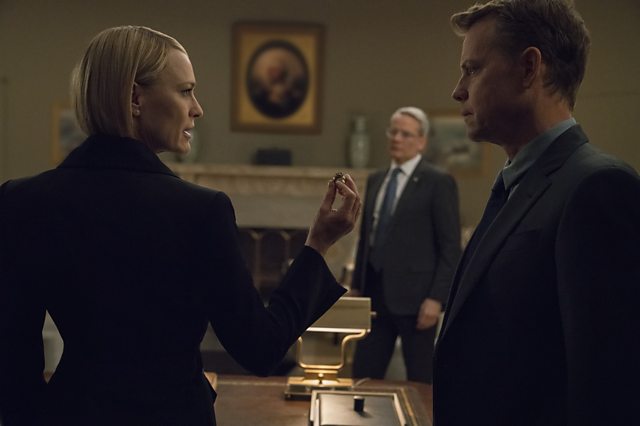 (Photo: David Giesbrecht/ Netflix)
House of Cards lands on Netflix on Friday 2 November 2018.
Must Watch is 5 Live's TV review on Afternoon Edition every Monday from 15:00.
Click here to catch up with all of our film and TV reviews.