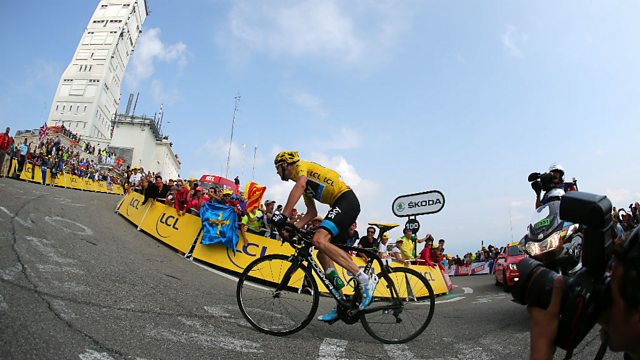 When Chris Froome crossed the finish line on the summit of Mont Ventoux, it reminded me of a sight that is becoming increasingly rare in today's overly calculated world of professional cycling. The sight of the yellow jersey, alone dominating in the mountains, winning on one of the great mountains of the Tour.
Winning a-la Eddy Merckx or Bernard Hinault; dominating his rivals and attacking with a considerable distance to the line.
Sir Dave Brailsford had described him as the best climber in the world. After yesterday's display, and let's not forget his similar exploit a week ago in the Pyrenees, can anyone really argue with that statement.
But what makes him standout, and why is he such a good climber? He is not the most stylish rider. Former World Champion Rob Hayles – our summariser – says he resembles a spider on a bike, as he has such long arms and legs and climbs all over his frame. Someone else also called him cycling's Paula Radcliffe. It may not be the prettiest style, but it surely works.
He certainly has a slim, light build and a great power to weight ratio, and to go with this a fantastic aerobic capacity – although for the first time yesterday he had to be given oxygen at the end of the race.
All these traits are necessary, but others have these as well. I believe what makes him stand out is down to his hard work and preparation. He spent a week climbing the Ventoux in May, others spent a day or two there. He knew the mountain inside out. He also has a fantastic change of speed which enables him to open the gap and then to keep it going. His leg speed on his first attack yesterday was phenomenal, sitting down and spinning his legs. Nobody could follow.
I also believe he took a few risks. He went on instinct. Of course he was suffering, but so were the others, but he had the ability to detect when his rivals were weak and exploit it.
Last week his team failed on the road to St-Amand-Montrond. Froome and his team were caught out in the crosswinds resulting in over a minute lost to his main rivals. Sir Dave Brailsford admitting that they were caught napping.  Yesterday was different. Once again we were able to witness a great team effort as they delivered Froome in just the right conditions for him to make his move. Porte, and in particular Peter Kennaugh, were fantastic.
There will be attacks, but his rivals will know (they may not admit it openly) that barring accident they are racing for 2nd place. There is nothing better for team morale than having every confidence in your team leader; you dig deeper, for longer. Froome and Sky will deliver.
Full coverage of the Tour de France with Graham Jones and the team is on 5 live sports extra. Click here for the schedule.