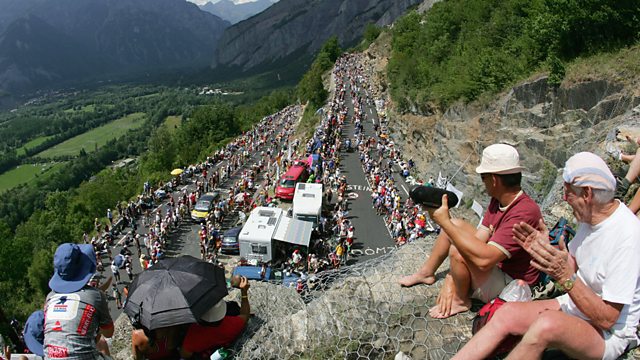 If there is a stage on this year's Tour that everybody has been waiting for then it's this one. Stage 18 Gap to Alpe D'Huez: the most famous climb in the Tour, and one of the first climbs ever to be used as a summit finish. It has become a Mecca for cycling fans with its 21 hairpin bends.  
Unfortunately for the riders in the Tour this year they have to do it twice.
Just to spice things up even further, the weather has taken a turn for the worse. Rain is forecast and the impact could be enormous. So far we have had possibly the hottest Tour in recent years; temperatures have rarely dipped below 30C on any of the previous 17 stages. Today in addition to the possibilities of rain, the temperature at altitude is only 14C.
This could play a big part today, 14C may not sound too cold but when you are descending at high speeds and you're soaking wet the temperature will feel like zero. It could prove very tough for some riders; not everybody can support the cold.
For the first time in the Tour riders may need warm drinks, embrocation on the legs and long sleeved jerseys or wind protection for the upper body. Also, the cold means riders use more calories, so important they eat enough. I've seen even experienced riders get caught out: Jan Ullrich springs to mind in 1998 just down the road from here at Les Deux Alpes.
What else can they do? Not much really, the weather is going to be unpredictable maybe both dry and wet at times. If it was wet all day, a different choice of tyre might be possible or a little less air in them to give a slightly larger surface area on the ground, especially as the dreaded descent of Sarenne is bumpy. The descent of this could be crucial today.
It won't just be the front runners at risk today, if the race is fast from the start, riders tailed off early will face an even tougher day getting through and inside the time limit. It's tough mentally too. When you are up the front and going well, the cold is less noticeable than if you're near the rear. It's the accumulative effect of the cold that will come into play; recovery will be hard after a day in the cold and wet.
Download the BeSpoke podcast for daily Tour de France analysis from commentator Simon Brotherton and the team. Find out more about our live coverage here.