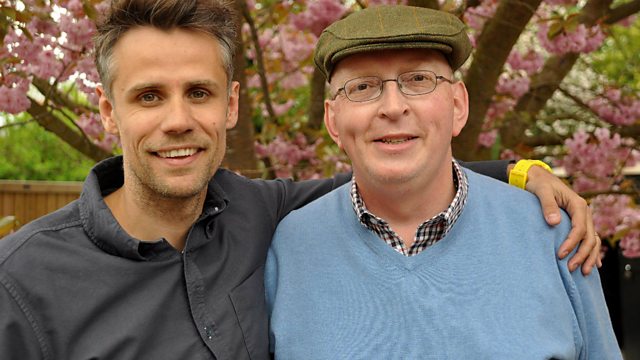 To mark 5 live's 20th anniversary, on 28th March, we're asking "Has 5 live changed your life?"
The network has had the privilege to share so many special experiences with people over its 20 year history. There have been interviews that gave listeners goosebumps; interviews that kept people listening in their cars long after they'd arrived at their destinations; and even interviews that changed lives.  
In 2013 we first met Steve Evans, who shared his journey of living with terminal cancer; in 2011 'Rachel' a doctor, told us her story of alcoholism; and in 2012 footballer John Harston's told us his experience of testicular cancer, that inspired a listener to seek help for what was found to be a small cancerous lump.
These stories provoked a lot of reaction from listeners, and now we are looking for more listeners whose lives are different after hearing something on air, from any 5 live programme. If you have a story you want to share, please email Victoria@bbc.co.uk.
Thousands of listeners have contacted Victoria Derbyshire's show over the last three years, since the first intimate moment in February 2011 when 'Rachel', not her real name, publicly revealed her addiction:
I have been drinking today and I admit that fully."

"Can I ask you how much?"

"I'm not sure, this sounds really bizarre, I've been drinking cans of Guinness because I think that's got vitamins in it."
"How long have you been drinking to this level for?"
"I've been drinking heavily for probably about 10 years now…I just want to let people know alcoholism is a disease":




Her telephone call prompted one of the biggest reactions from listeners 5 live has ever had, to the extent that whilst in a rehabilitation programme in Halifax, Rachel met a woman who said was there due to hearing Rachel on 5 live:

"I knew I'd heard your voice before, I heard you on the radio, you're the reason I'm here."

Some of the messages we received:

"Please tell Rachel that she may have saved my life today."

"I have been a heavy drinker for the last two years and have been diagnosed with depression, I have been sober for the last 10 days and your programme has just strengthened my resolve to stay sober and get my life together."

"I have little doubt, if this interview could be heard by a wider audience it would be better than any government alcohol abuse advertising campaign."

"Thank-you for doing the interview with Rachel today, I listened mostly in tears, it sounded exactly like my late wife."

Steve Evans

When Steve Evans shared his experience of living with terminal cancer with Richard Bacon, hundreds of listeners responded through emails, texts and tweets. Steve died on January 16, at the age of 52.

To me, Steve took on our fears of terminal illness, pain, death, loss and being scared of all of the above - but he made it no big deal. He normalised it.  He assured us that it is okay, that whatever the outcome life is bigger, the journey is just that & whatever our outcome we will be okay...What a guy! Anon
@Simon_Caley:            @steveevans51  you have made me want to be a better human being through your chats with @richardpbacon one journey ends, another begins #rip
Steve, what a remarkable man I was waiting for scan results on my bowel when I first heard him, seriously ill, I found out I had a to have part removed, Steve kept me strong, as he said there is always someone worse off, luckily it wasn't cancer, after major op I'm ok now, he was so brave and his family too, the worry my family went through, my heart goes out to them R.I.P Steve. John, Wakefield 
I am totally inspired and humbled by both Steve and Stephen's positivity and frankness towards their illness. Just incredible and I wish them all the best for the future whatever that holds for them. My mum died aged 54 from a brain tumour, which was a harrowing experience and I wish we as a family could have embraced a positivity and energy for life in the same manner that Steve seems to be. Sarah, Derby
A few months ago you talked to Steve just after I had been told I have cancer and I sent a text to say how he inspiring I found him and he still makes me drive on and look on the bright side may his god bless him and thank-you.  Anonymous

John Hartson 

Former Arsenal and Celtic striker John Hartson told Richard Bacon about his treatment for testicular cancer. Ben Pilling, 28, from London, checked himself out after listening to a podcasted version of the interview in 2011, and was diagnosed with testicular cancer. The two men met in January 2013:



Were you inspired to make a change because you heard someone else tell their story? Did our coverage of a news story make you do something about the issue concerned?
Perhaps you were inspired to have a health check; perhaps you met your future husband or wife at a 5 live event; or maybe you were inspired to change something in your life as a result of an interview you've heard?
Whether you've given something up - or taken something on, we'd like to hear from you. So much has changed in 20 years. But how are you different? And did we have anything to do with it?
If you have a story you want to share please email Victoria@bbc.co.uk or write in the comments below