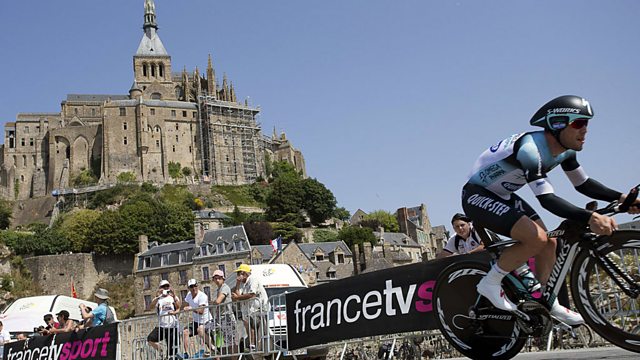 Under normal circumstances I would just be talking about today's Time Trial and how riders will prepare, however I can't continue without giving my opinion on yesterday's sprint finish and why the Commissaires had no choice other than to take no action against Mark Cavendish after he seemed to bring down Argos Shimano's Tom Veelers. 
After looking at the incident a couple of times I really believed that he would be relegated to last place in the peloton. I based this on some very strange and surprising decisions I have seen in recent years by the race jury. I thought that there would be an overreaction, especially as it was Mark Cavendish.
As it stood it was Mark Cavendish who overreacted, snatching away a recording device from a journalist who dared ask him if the crash was his fault.
The TV replays were very inconclusive. It was a mixture of a poor lead out by his team leaving him too far back when he started his sprint; the slight movement to his right by Tom Veelers, and Cavendish's eagerness to get on Andre Greipel's wheel. However the location of the Finish Line was also not the best I've seen in the Tour. A curve to the left with only 150 metres to go contributed to the incident. The correct decision was made, there just wasn't enough evidence.
Back to today's test and how do riders prepare for an Individual Time Trial.
Of the 182 riders still left in the race, many will have different agendas. There are three main divisions; firstly the contenders for the Yellow Jersey. For them it is a long hard, stressful day. It may only be 33kms in length but the day will start early. After breakfast it will be into the car and off to the start, a morning ride over the course is an absolute must, both as a loosener for the legs but most importantly to get a feel for the course. Which way is the wind blowing? Is the course very technical?
Today's course is flat, so decision on gearing is simple. Other times it can be more tricky. From the finish it's back in the car and back to the hotel, rest, food, and try to relax as much as possible.
Then there are the riders who are not overall contenders but very good time trialist's looking to win the stage. A prime example being Tony Martin, the favourite for today's stage. His preparation will follow a similar pattern to the overall contenders but his day will be more compact. His start time is much earlier and he will be done and dusted as much as 4 hours before the yellow jersey will finish. Unfortunately for him though if he has the fastest time he is not allowed to leave the finish area until someone beats his time, if indeed anybody does. It's not a case of heading back to the hotel for a massage and a siesta.
Finally the guys who are neither in contention overall or have no chance of winning today, the domestiques, the sprinters. For them it's about getting through the day as easy as possible, using as little energy as they can, but of course making sure they go fast enough to get inside the time limit – if they don't, they are disqualified from the Tour. This happened with Cannondale's Ed King in the Team Time Trial. He missed the time limit by seconds and was sent home.
Those that start early can be back in their hotels in time for a decent lunch and relaxing afternoon. Maybe a short nap, then watch the late starters on TV. They will see the day as a semi rest day, for the big boys it is far from it.
Live coverage of the Individual Time Trial on from BBC Sport.