The F1 travelling roadshow in the Far East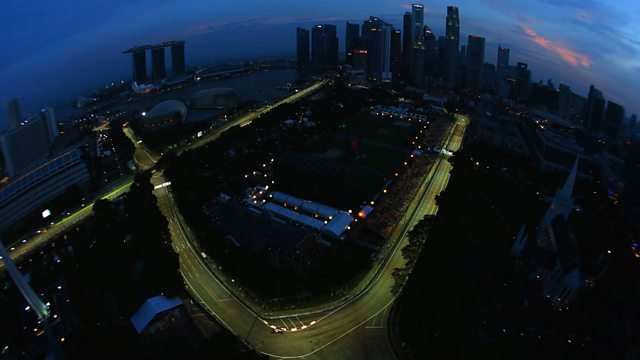 6741 miles from home and it's the start of three races in the Far East and my F1 long haul journey.
For the next month I will be on the road, starting with covering one of the most glamorous races on the calendar, the Singapore Grand Prix. Then to the vastly different Korean GP where there are more team members and F1 personnel than spectators, and finally on to Japan for one of the most loved circuits by the drivers, Suzuka.

Along the way I'll try and give you a little insight into what it's like to be in the F1 travelling roadshow.

First of all the Singapore race. It's a night race which starts at 8pm Singapore time. However, the whole paddock (drivers and media included) stay on European time. That means going to bed at 6am and having breakfast at 2pm.

It's four times world champion Alain Prost's first time at the race. I caught up with him during the first practice session of the race weekend and he was very chatty. He told BBC 5 live he believes Sebastian Vettel is better than him and the battle between Fernando Alonso and Kimi Raikkonen at Ferrari (if it happens) will be good for the sport.
Now as the drivers have their lunch (at dinner time) the usual rumours and intrigue flood the pit lane but I think all of us are hoping Lewis Hamilton being fastest in the session means someone can challenge Sebastian Vettel this weekend.

Hear live commentary on the Singapore Grand Prix, Sunday from 1pm on 5 live.