BBC Radio 5 live presenter Rachel Burden has been to meet the family of Nell Jones, who was killed in the Manchester attack in May 2017. She was 14-years-old.
Jayne and Ernie Jones lost their daughter Nell 11 months ago - and this week she would have turned 15.
She had gone to the Manchester Arena with her best friend Freya to see Ariana Grande as a birthday treat. She was the victim closest to the bomber; her young life extinguished in a flash.
Meeting her family, it's tempting to talk about their courage, their dignity and their generosity in the face of such loss. But I suspect they wouldn't describe themselves like that. They're just a mum, a dad and three brothers who are trying to manage their grief each day, hoping that it might get a little easier – but finding the pain overwhelming even as time passes.
The only brief respite for Jayne comes at night.

"You look forward to going to bed at night because you can go to sleep for a few hours and it's not there, but then you wake up in the morning and the first thing you know it's there again," she told me.
"We are different people now than we were before", mum Jayne told 5 live
She talks about the very simple things that she misses – going on shopping trips with her only daughter, leaving to pick her up from school as the clock ticks towards 3pm, buying her gifts she knows she would have loved.
Jayne recently came across some Harry Potter make-up brushes online that combined Nell's two great passions – so she bought them anyway and put them on her desk.
Everyday reminders of her daughter are everywhere - the slippers under the bed, the iPhone charger still plugged in, the toffee wrappers left on the floor she now keeps in a jar, the make-up wipe that she can't bear to throw away because it touched Nell's face.
"It's mad really" Jayne tells me, like she still can't work out what on earth has happened to them all.


Everything has changed


They are a very close family – Jayne and husband Ernie, with brothers Sam, Joe and Will. They work together on Ernie's turkey farm. Life has to go on – and yet everything has changed, as Sam explained to me:

"There's a part of you that feels that you have let her down because you weren't there to help.

"You see things in your parents that you never want to see. It's a bit like a capsule inside that has broken – a capsule of grief and you have no control over it anymore."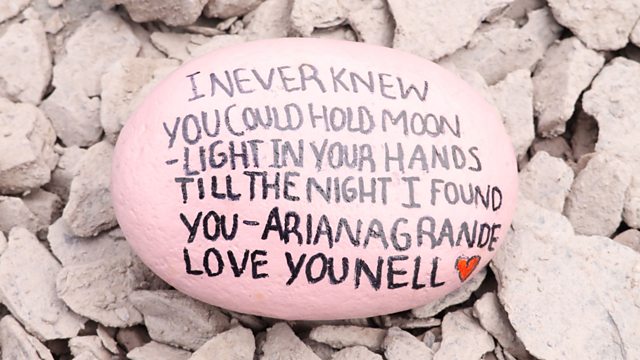 In the memorial garden at Nell's school, friend Freya - who was at the concert with Nell - left this pebble as a tribute.
The one thing the family feel they can do to make sense of it all is to try to bring about something positive from the dark horror of that night. They've set up a foundation in her name, #RememberingNell, which will raise funds to support small local charities, with a focus on young people. The first big event is a ball, just after Nell's birthday, a celebration to cast aside the reminders of the anniversary.


'Cherish what's precious'


Like so many families in the North West, this horrific event felt very close to us all. My daughter goes to Nell's school. The victims of this crime are the neighbours you meet in your local shop, the friends you see at the school gate, the farmer you buy the Christmas turkey from.

They are good people - lovely, friendly, warm. Sam told me the support from the local community and strangers right across the country restored his faith in humanity after the loss of Nell. Meeting the Jones' family is a vivid reminder to cherish what's precious to us, and that the love for a daughter or a sister will always outshine the darkest of human deeds.
In a memorial garden built at Nell's former school, her friends paid tribute to her
Your comments
We played the interview on BBC Radio 5 live on what would have been Nell's 15th birthday and it prompted many listeners to get in touch:
I'm a 43 year old bloke that has just been driving to work with tears running down his face after listening to that. Such strong people. Dan, Marlow
I know I moan sometimes, but this is one of the best pieces of radio I've ever heard, love to the family x
No broadcaster does this as well as 5 live. Beautiful humane insight into massively inspiring people, speaking with great love and clarity. Thank you. Simon, London


Hi, driving to Hull for work absolutely balling in tears in my car! 28-year-old in floods after your story on Manchester bombing! Joe


If anyone does not feel a little of the pain that family have of losing their child they are not human. So touched by their honesty and your programme has brought more than a tear to my eyes. Dave, Essex