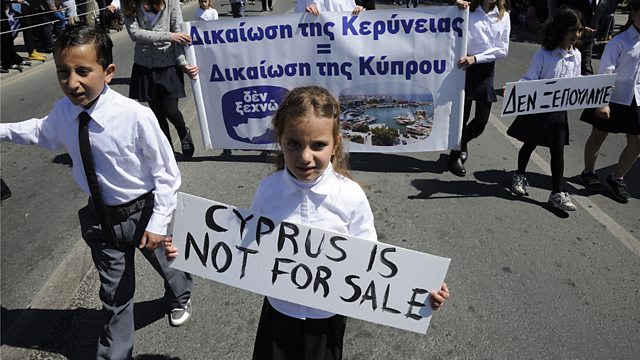 With his country teetering on the brink of financial meltdown, Chris Shakallis offered his own analysis to Europe's top brass. "They can bully us all they like," he told me. "We're skint."
Chris is a straight-talking Cypriot from Larnaca, with an accent that makes it evident he spent much of his youth living in north London.
He's been earning some extra cash by driving an overseas TV crew to the Cypriot Parliament, then patiently waiting in the bus-stop seat opposite for a rescue plan to be agreed.
He's made tough choices of his own. The family books have been balanced with the postponement of his daughter's wedding.
This is a crisis that has monopolised conversation, creating a national coming together - at the hole in the wall. The queues I encountered have all been good-natured. Apart from some disturbances, the protests have been angry but controlled. 
A key factor may be the high proportion of women among those bank workers who've picked up their placards, worried about their jobs and pensions.
Over the past week, Cyprus fast became a cash-in-hand society. A petrol station manager I met was rather nervous about the volume of cash in his hand. Forty thousand euros that required a series of hiding places.
Even the country's footballers joined in the debate. International winger Nectarios Alexandrou, who I bumped into ahead of Cyprus's encounter with Switzerland, spoke to me of his concerns over the economy. It made me wonder about the Rooney take on quantitative easing! 
And then there's the Russians. Will they pull out and take their money with them?
Perhaps more worrying is whether a young generation of Cypriots would do likewise. An 18 year old student told me she wanted to leave when she finished college. So did her friends, seeing no future in Cyprus.
Of course the vast majority of Cypriots will stay. They'll tough it out and wait for a time, as Chris might put it, when their country is no longer skint.
Mark Hutchings is a reporter for BBC Radio 5 live