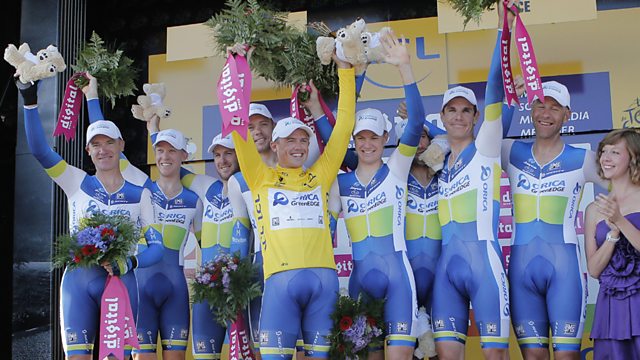 Thirty-two years ago a young Phil Anderson became the first Aussie to don the coveted Maillot Jaune. It's a day I remember very well; I was Phil's team and roommate at the time in that year's Tour in 1981. Back then cyclists from outside Europe were a novelty. The odd American, Australian, South African or South American was something new for what was basically a European sport.
The French were quick to give this Aussie a nickname: Skippy or 'Le Kangaroo'. Very original of course, but I'm not sure even he, and of course Allan Peiper - another pioneer of Australian cycling at that time - could ever imagine what they'd started.
From then, via the Sydney Olympics, Australian cycling is now reaping the rewards. It is a system that Great Britain has followed, and their success is now well-documented.
The two nation's similarities don't end there. Australia beat Great Britain to the first Tour de France win with Cadel Evans a year earlier than Bradley Wiggins did for Britain, but Evans was riding for a European team. Wiggins did it with the British-backed Team Sky.
Australia's first real top level pro team – Orica-GreenEdge - was to follow a couple of years after Team Sky, due largely to the drive and determination of Shayne Bannan who followed Team Sky's model.
Yesterday's Stage 4 Team Time Trial win by Orica-GreenEdge was their second consecutive stage win of this year's Tour, and in so doing put Simon Gerrans in Yellow. Thirty-two years after Phil Anderson - one of his idols and his first coach.
2012 was a difficult first year for the team. They, like Team Sky, made mistakes but they learnt and through clever management and hard work are starting to reap the rewards.
Developing a team takes patience. Young riders who might develop into winners have to be given time – Chris Froome's future at Team Sky was in doubt a while ago. Now here he is leading Team Sky for what he hopes could be six years or more. But they couldn't do it without their work horses - or 'domestiques', as they're called. Getting on well with your teammates is essential. A team with good morale and a good atmosphere has a much better chance of winning.
But the riders are just one piece of the jigsaw. There are so many things that have to be done to put a team together from scratch. Infrastructure, cars, buses, and logistics apart; the backroom staff must to be top-notch too. Here again a blend of youth and experience is vital. These guys spend a lot of time together. The first year is all about the learning curve and maybe at times managers have to be brutal and change or replace personnel until they get it right.
Orica-GreenEdge are now getting it right. They already have had a dream Tour just four stages in. Simon Gerrons has the leader's jersey and he will probably have it for three more days. They may lose the jersey at the Pyrenees, but it probably won't be the last we see of them in this year's Tour.
Coverage of the Tour de France continues from 3.30pm on Wednesday 3 July on 5 live Sports Extra. Download the BeSpoke podcast for daily analysis from commentator Simon Brotherton and the team.