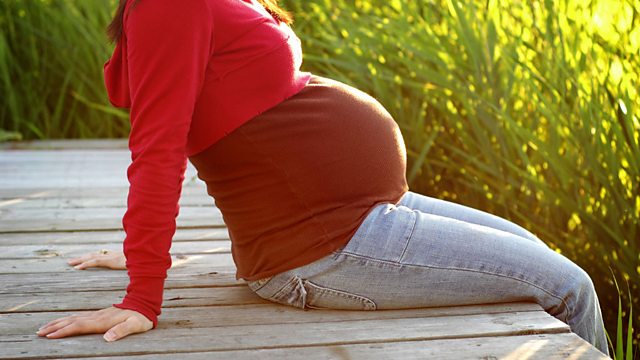 There are around one million women across the UK who are currently carrying a 'bump' - some of whom are more high-profile than others.  But for every Katie, Kim, Coleen and, of course,
Kate
there are thousands of other pregnant women on the road to motherhood without fanfare or the paparazzi following them.
For example there's Lorna, Holly, Mercy, Laura and ten other mums-to-be from across the UK who, together with their partners and families, are all on the emotional rollercoaster that is pregnancy. They've agreed to share the joys and difficulties of growing a baby over the next 18 weeks with BBC Radio 5 live's Bump Club.
We've been getting to know them over the past four weeks ahead of the launch of the Bump Club in Tony Livesey's programme on Tuesday 5 March. We've talked about the long-awaited joy (and for some surprise) of conceiving, the nervous wait for scans (how many are actually in there?), about getting to know the midwife and the excitement of sharing the news that there's a baby on the way.
We've shared stories of the less glamorous and more undignified realities of pregnancy such as the hormones and emotions, the peeing, the vomiting, the constipation. They haven't spared the intimate details because pregnancy doesn't. Bump Club is about revealing pregnancy in its beautiful, glowing beauty and discussing the less pretty, physically brutal side that is just as important, but not nearly as widely discussed.
The one thing that Bump Club has revealed to me is that no single pregnancy is the same. This is unlike any other programme I've worked on before. That's because this time I'm not only stood at a near distance, listening and recording, I'm actually living this alongside our members of the Bump Club:  I'm 16 weeks pregnant. Talk about taking your job seriously…
No, I'm not that committed to my research! But it's a happy coincidence that I was asked to produce this series just after I saw the long-awaited 'plus' sign.
Bump Club has given me a magnified view on all things maternity-related. I'm seeing all the varied, fantastically wonderful to downright dirty elements of pregnancy, alongside my own experience. It's helped relieve some worries, but not all.
Just as the Bump Club members will paint an honest and realistic look at pregnancy, I'm prepared to share my stories too. A low? I recently threw up on a morning commuter train with a full audience (and only a discarded bakery bag for assistance). There were lots of tuts, sighs and looks that said 'heavy one last night love?' "If only," I thought. Nothing could take away the frustration and utter despair I've felt at my lowest point of pregnancy sickness, but one look at the baby inside me at my 12-week scan lifted me up so far that I was prepared for any more long slogs over the toilet bowl.
With the help of Bump Club mums and dads-to-be, as well as experts who are approaching pregnancy from across a huge spectrum of experience and expertise, each week we'll start conversations about the many issues which come up in pregnancy – from sex, to planning the birth, dealing with hospitals, midwives and scans, money worries, to choosing the perfect name.
Bump Club is for anyone and everyone who has ever had a baby, is currently with bump or has just always wondered what it's like. 2013 promises to be as full of celebrations, tears and triumphs as 2012 that's for sure.
Bump Club will begin as a weekly half-hour programme on Tony Livesey before an hour-long show, presented by new mum Edith Bowman alongside Colin Murray, starts in May. Click here to read more.