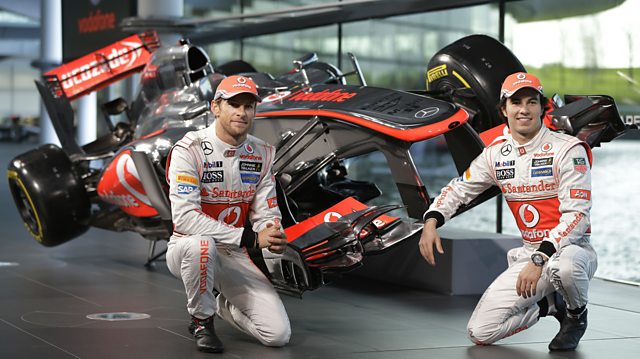 For the BBC Radio 5 live season preview special I had a unique opportunity to go behind the scenes at the McLaren Technology Centre (MTC) in Woking, where Jenson Button and Sergio Perez' new cars were being prepared for the start of the 2013 season.
I've been to all of the F1 factories and I've visited MTC many times before, but this was truly special as I got to go into places that have always been "off limits" – such as the Simulator and the Operations Room and the Wind Tunnel. You can hear it all on the show which airs Thursday 28 February at 7.30pm.
The reason for McLaren's openness was that we were recording for radio, so there were no cameras involved.
But even without cameras, the Simulator in particular has always been a closely guarded secret. McLaren invested heavily in this technology 10 years ago and got ahead of the game with it, which has brought a lot of benefits. The other top teams have caught up now, but it's still rare to have a chance to see it.
What is a simulator, you ask? Well it looks like a giant Sony PlayStation game with a large curved screen and an F1 chassis sits in front of it, mounted on electrically operated rams.
So it's a PlayStation with a difference. It's so uncannily accurate that Button can drive a lap of the Melbourne circuit in it and it will be the exact same lap time to 1/1000th of a second as he would do in the real car.
Better still, the engineers can make changes to the set-up of the car - try a new front wing or a different tyre - and he will feel it in the cockpit and the lap time will be affected by it.
Vital strategy decisions
A lot of work in F1 today goes on in the simulators as track testing of real cars is limited for cost containment reasons. It costs around £1,500 per lap to run an F1 car and a typical days testing will be around 120 laps.
Elsewhere we visited the wind tunnel, where the engineers try out new ideas for parts that will make the cars faster in future races as well as the fabrication and assembly bays where the cars are manufactured. They are mostly made from carbon composite with exotic materials like titanium and inconel.
And we saw the Operations Room where a team of engineers monitors all the on track activities when the cars are racing – even on the other side of the world - and they make vital decisions on race strategy and pit stops.
We were hosted by some of McLaren's senior management including Sam Michael the Sporting Director and Simon Roberts the Operations Director.  It's a must for F1 fans and for anyone with an interest in just how much goes into the design and build of an F1 car.
Behind the scenes at McLaren on 5 live Sport, Thursday 28 February at 7.30pm. Get a download of the programme.