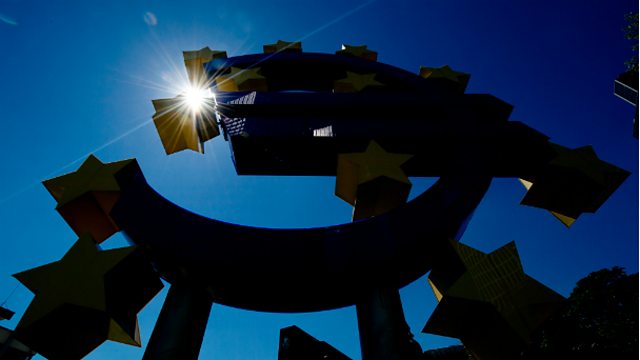 This week on BBC Radio 5 live we're travelling to five Eurozone countries in five days, reporting on the state of the European economy. There have been recent good news headlines saying the economy is growing, but I want to know whether this change is real. Is it benefiting the public - not just companies, markets and governments?
So, from Monday 19th to Friday 23rd producer Sean Farrington and I are reporting from Portugal, Ireland, Greece and Cyprus - the four countries whose governments have received bailout loans from the international community - ending in Germany, which bankrolls much of the aid.
I'll be asking: Has the worm turned in Europe? Are the bailouts working? Is this genuine recovery? The economy of the 17 countries that use the currency, when taken together, is no longer contracting. Unemployment stabilised in June. Consumer confidence is up, as is industrial production.
We'll report from Faro, Portugal on Monday; Dublin, Ireland on Tuesday; the port of Piraeus near Athens in Greece on Wednesday; Nicosia in Cyprus on Thursday; and Frankfurt in Germany (seat of the European central bank) on Friday.
Recovery is good news for us in the United Kingdom - the Eurozone block is our biggest trading partner - and you'd think good news for the people who live there too. But statistics can seem distant to the reality of those on the street. For many of us falling wages (when compared to the cost of living) can mask any benefit from the UK's economic recovery.
Day 1: Portugal:
In the last few days we learned that Portugal is now out of a long recession, but how real does that feel? Many young Portuguese looking for work have emigrated to the very colonies Portugal used to rule - Brazil, Angola, Mozambique. The terrible youth unemployment rates are an obstacle to a prosperous future for whole generation.
Day 2: Ireland:
I'm a bit more optimistic for Ireland. The housing market has finally hit bottom (prices are now rising again in many places). Not necessarily good news in itself, but it may make the banks and homeowners stuck in negative equity feel a bit more optimistic.
Day 3: Greece:
For Greece it's a similar situation to Portugal. It was the first country to receive a bailout, and it got a second one too as well as a "hair cut" - a reduction in what its government owes its international creditors. The last time I went to Greece I saw drug users injecting heroin into their necks in broad daylight just yards from the Athens central bank. I hope things have got better, but recent conversations I've had make me fearful.
Day 4: Cyprus:
Cyprus is still in shock. Its bailout was only a few months ago and the effects on the banking system (a lack of credit) and consumer confidence, are only now becoming apparent.
Day 5: Germany:
The Germans are only a month away from a general election. The governing party is relieved at the recent good economic news. I'll tell them what their weaker fellow 'Eurozonians' tell me in the days beforehand. I spoke to the Deputy Finance Minister just a few days ago. He took the good news as vindication of the tough love policy of austerity.

But maybe the election is all they care about for now, and the determination not to pile any more liabilities onto future German taxpayers will mean their resolve won't waver, publicly at least.
Listen on BBC Radio 5 live on the Drive programme from Monday 19th – Friday 23rd, between 16.00 and 19.00, and listen again to the highlights here.