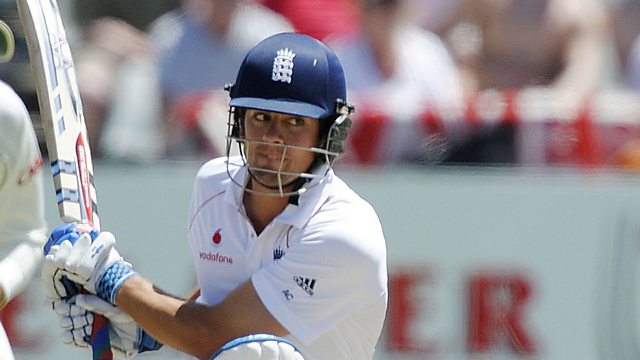 With just one day to go ahead of the Ashes, Test Match Special producer Adam Mountford took to Twitter to answer your questions about the programme using #AskTMS. Here is a selection of his responses.

You can hear Test Match Special throughout the Ashes on BBC Radio 5 live sports extra and via the BBC iPlayer Radio app.
How do you decide the commentary rota for the day's play? - @gilesjoiner
I try and mix a variety of different voices and personalities and make sure commentators get to work with a range of summarisers.
Why do you not have a woman as part of your commentary team? - @joannevickers
Alison Mitchell is a regular part of the commentary team having worked on World Cups, ODI's and ICC events hopefully Alison will get the chance to commentate on a Test match soon. She is a very important part of the TMS team.
Who would you really like to get on TMS, and who gives you the biggest headache?  - @mjkyorkshire
Aggers is really keen to get Sir Alex Ferguson on this summer. Biggest headache, not a person, but the weather!
How would you feel if there was another "leg over" incident on your watch?  - @athena_42
I would love it. You may occasionally hear me laughing in the background. Good job I'm not on air as I'd corpse all the time.
As a producer, what time do you have to arrive at the ground on the morning of a test and when can you leave? - @PeterACollins
I normally arrive around 8am. I like to be first in the box as it's quiet before Geoffrey arrives. When I work @bbctms abroad I also engineer the programme so I often have to get to ground hours before to get lines working.
Do you have to restrict the number of visitors to the box - would have thought you would be inundated with requests? Who polices it - @niallodonn
It is lovely to have visitors - but we are doing a live programme so obviously the priority is what goes on air.
Do your guests have to perform a test before a first broadcast to see if they are suitable for the radio?  - @electricralph
No not a test, we might ask around to check if a potential guest is a confident talker and really likes cricket.
Has the ashes always been so important to the public or has it heightened since 05? -@stuartjnelson
I think 2005 really lifted the Ashes to new heights - in some ways it is a shame it overshadows other really good series.
Which ground does the best luncheon for the press folk?  - @DrDublin1
I don't always get lunch as I produce our interval programmes. But these days I think Edgbaston is best.
Really enjoyed the Michael Palin as a guest commentator for 1 over, any chance of making the 'guest' a regular slot? - @rogerk11
It is a fun idea. The only issue is if a really vital moment took place when a guest is commentating. But we may try it again!
What do you think about the change in balance between ex-pros as commentators vs. genuine journalists (Bloefeld, CMJ etc.)  - @jimboclack
I think it's really important we have a mix of journalists and ex-pros. For this Test we have 3 professional broadcasters.
Has an Eng sub-fielder i.e Gary Pratt ever gone on to gain an Eng cap in later years or is sub the pinnacle? - @HowarthRob
Quite a few times. Andrew Flintoff certainly did. He was talking about it the other day.
Does @TMSscorer use a computer to find all his amazing statistics?  - @moorhead_mark
Yes these days scorers like @tmsscorer use computers to help find stats. But he scores with a pen and paper.
What is the hardest part of the job and what is the best?  - @gilesjoiner
Hardest is second guessing weather. Best I get to listen to @bbctms all day at Cricket matches with a constant supply of cake.
Adam do the team use naked eye or binoculars? - @niallodonn
Naked eye with occasional binoculars for fielders in the deep or for spotting famous faces in the crowd.
Do you get much work as an Angus Fraser lookalike?  - @PantherDarts
I am not nearly grumpy enough to be like Gus.
Have you ever seen a mermaid? - @SamuelAmadeus
No but I have seen Shane Warne bowl a Flipper.
Do you know the reason why Billy isn't playing his trumpet? Can you interview @TrentBridge on air to explain?  - @Rich_for_peru
Trent Bridge have a "no musical instrument" policy. But we will follow up the story on the programme.
How much planning do you do for rain delays? They are often better to listen to than when there is cricket  - @WRMetcalfe
If I know we're going to get lots of rain then I try to plan some material/subject areas. But some of our best chat is organic.
Do you think there is a chance England could win 5-0 if the British weather holds out?! - @thealexsims
Personally I can't see that. England are certainly favourites but I think it might be a little tighter than some think.
How much equipment do you need to take to each ground for a TMS broadcast? - @goose521
In the UK we have engineers to help so I only take a small amount. Abroad I carry all equipment in 2 large suitcases.
What is the oddest commentary position tms has broadcast from?  - @moorhead_mark
Famously the Old Fort in Galle in Sri Lanka when we were locked out of the ground.
Are new commentators/pundits ever briefed on the TMS "way" or do you let them do it their way? - @_SmartUK
It is really important that people are allowed to "be themselves" on air. But I will just make sure they know the basics.
Is there an equivalent 'tinny' record for a shift in the commentary box? Am guessing @MichaelVaughan can put it away!  - @RichyLomas
It may surprise you, but our team don't drink on duty. Just imagine what it might sound like if they did!
Would you ever consider allowing the box to be filmed for viewers? Perhaps a red button feature? - @JamesGW144
Maybe, but sometimes the picture of the TMS box in your head may be more romantic than the reality!
You can hear Test Match Special throughout the Ashes on BBC Radio 5 live sports extra, Radio 4 LW and via the BBC iPlayer Radio app.