Meeting the Syrian refugees trying to get to the UK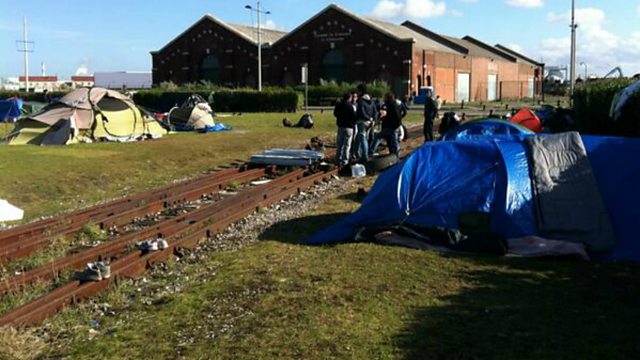 by Jim Connolly, Senior Broadcast Journalist
I consider myself a fairly robust character and I am very rarely shocked by the stories I come across at work, but my days earlier this year in the Zaatari Refugee Camp with Shelagh Fogarty producing her programme did just that. The contorted anger on the face of Ahmed who saw his mother shot dead by a sniper when she went to rescue his cousin, himself shot dead in the street, will be permanently etched in my memory.
I recognise that atrocities are happening on both sides of a conflict that shows no real sign of letting up, but what seems undeniable is the suffering faced by the Syrian people caught in the crossfire. I have been sent to produce more interviews with refugees running from the conflict, this time a lot closer to home in Calais, the town and major ferry point in Northern France.
I met around 40 – 50 Syrian refugees, people like Ali and Ahmed; they told me that they wanted to come to Britain because the treatment they receive in France is so bad that they have to sleep in tents on a wasteland. They told me they were happy to risk their lives to get to Britain where they believe they will be able to get proper shelter and even homes for them and their families to live in.
The situation here is complex. The men, and it is mostly - if not entirely men, who line up for food every night have escaped the devastation of their home country and now live in a limbo between France and what they see as an even better life in the UK. 
On Friday 18th, Victoria Derbyshire will be speaking to the Syrian refugees and those helping them in Calais. Hear from the European politicians who blame Britain for the crisis in their port. The Home Office says "legal and illegal migration in France is the responsibility of the French authorities".
Before I left I spoke to the deputy Mayor of Calais, Philippe Mignonet, who told me that Britain is a target for refugees because of a perception that it's a "paradise" for people trying to start new lives.

He said that mafia gangs are making millions from the suffering of migrants fleeing the conflict in Syria. He told me that people traffickers are charging 10 to 12 thousand pounds to smuggle an individual to Europe from across the Middle East.
We will be speaking to Philippe and hear from the likes of Ali and Zackary who have made the journey from the Syrian/Iraqi border, on Victoria Derbyshire's show from 10am on Friday. 
Victoria Derbyshire Friday 18th, 10am Listen again here

Get the podcast here

Follow us on Twitter here