Wanderlust: What the reviewers think
Afternoon Edition's TV reviewers this week are Emma Bullimore from the TV Times and Morgan Jeffrey from Digital Spy. They are sharing their thoughts on the new BBC drama Wanderlust, which stars Toni Collette.
What did you think? Leave your reviews below...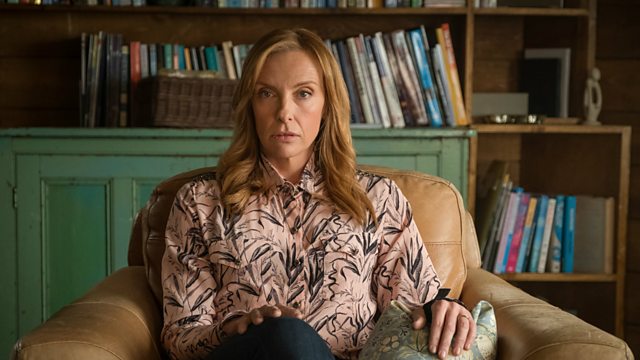 (Photo: BBC and Drama Republic)
Emma says "It's not that controversial, but it is interesting"
"Toni Collette (Hereditary, About A Boy, Sixth Sense) is another Hollywood person coming to telly, which is great stuff. Steven Mackintosh always does great work, when you see him you know it's going to be good.
"The two of them are a couple who get along and they still like each other but basically their sex life isn't what either of them want so they start looking around and considering the idea of an open relationship. At the same time you see a younger generation, their children, and they are thinking about losing their virginity and approaching the idea of sex.
"So I think it's a game of two halves really, I think Toni Collette is fantastic and that story is very interesting. The younger storyline I could do without personally but I did really enjoy it and I was desperate to see episode two so that's as good a sign as any isn't it?
"It was difficult to find it completely engrossing and believable because I don't think either of those characters are people I recognise or people I feel I would know. Also, they conveniently decide to stray basically on the same day, and I don't think it really happens like that.
"There are a lot of convenient parts to it and while I found it interesting I think the best dramas are when you really believe the character or feel like there's something of yourself in it
"I couldn't really engage with it on that level but I find Toni Collette absolutely magnetic when she comes on screen, I always want to watch her stuff, as well as Steven Mackintosh so that in itself was enough to keep me coming back."
Emma Bullimore is a TV critic at the TV Times.
Watch the trailer for Wanderlust.
Morgan says "It's a little different for BBC One and I think that can only be a good thing"
"It's also interesting, we were talking about sex and repression, because I think this is a very uniquely British series because it is as much about repression, as it is about sex.
"My one thing with this series is because it is a series about sex, and the lead character, played by Toni Collette, she is a marriage therapist, it can be a little bit on the nose at times.
"I will say I wasn't entirely bowled over by the first episode, although I did enjoy it, but I am really intrigued to see where it goes next because I have no idea where this drama is going, it's quite unpredictable.
"And if you push something which some would consider to be too far in terms of the content, or the subject matter, then people will say, 'this is controversial, it's too much'.
"If you don't take enough risks people say 'BBC One is being staid and it's the same old, same old' so I think it's good that they're taking risks and trying something new."
Morgan Jeffrey is the TV Editor at Digital Spy.
Wanderlust is on BBC One on Tuesday at 9pm and will be available on the BBC iPlayer.
TV club is on 5 Live's Afternoon Edition every Monday from 3pm.
Click here to catch up with all of our film and TV reviews.
Watch the full Wanderlust review on BBC Radio 5 Live.