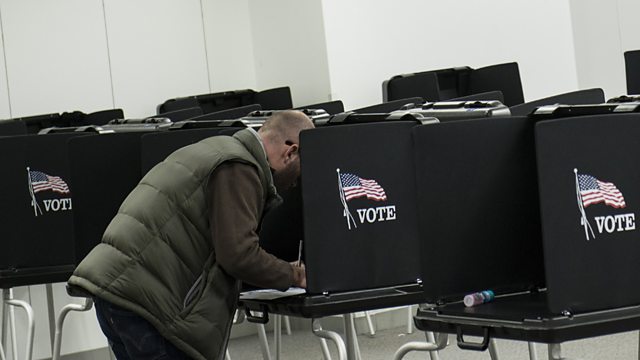 If the President and the man who's after his job are collecting air-miles this weekend, the loser will at least be able to console himself with a free flight to China. You only have to look at Barack Obama and Mitt Romney's exhausting schedule to see this race has come down to a frantic search for a comparatively small number of votes in a handful of battleground US States. If the President and his Republican rival visit Ohio much more they may just get arrested for stalking.
The national polls show the contenders to be leader of the free world are running neck-and-neck. But forget them. This is no longer a national campaign and probably never really was.
On Tuesday night watch Ohio, Florida, Colorado, Wisconsin and a handful of other results to find out who'll be sworn in as President next January. Those, crucial, states are agonisingly close fought contests too. And only a fool - or a very brave pundit - can call this race with any real certainty this weekend. Team Romney insist they can beat the odds, as their man beat all expectations and beat the President in the first of their three live TV debates. Since then, Obama's learned his lesson and shown more sparkle. More fire.
Hurricane Sandy allowed Obama to look more like the Commander in Chief, in charge, directing operations. Even that Svengali among Republican strategists, Karl Rove, admits Hurricance Sandy blew Romney's argument on the economy off the front page at a critical time. The US unemployment figures this week have been used by Romney as evidence of a sluggish recovery; by Obama as evidence of an economy healing.
So if you hold a gun to my head, kidnap my children and threaten to flush my goldfish down the toilet - if I had a goldfish - I'd probably say Obama's looks most likely to win his second term. Probably. But since you're not threatening my life, or my children, or my pet fish, I won't.
All the polls say America will choose the leader they trust most with their economy and their jobs. They'll also be choosing the leader of the most powerful economy on earth: a man, in other words with a big say over our economy and our jobs.
So it'll be well worth tuning in to our 5 live election special on Tuesday night. Oh, and maybe have another listen to my line up of US campaign players, pundits and ordinary American voters in Sunday night's Pienaar's Politics. This race is gripping, and trust me, it matters.