'I hope that's not on the telly' - Embarrassing FA Cup moments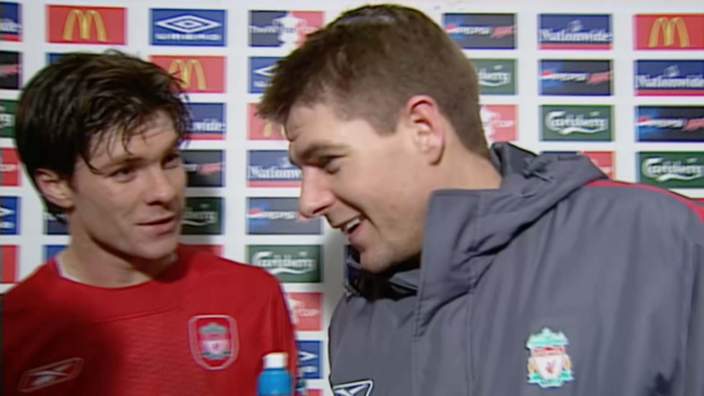 The FA Cup returns this weekend with the fifth round, giving us eight more games that could throw up some brand new 'magic of the cup' moments.
The pick of this round's matches will see Premier League giants Arsenal travelling to non-league Sutton United on Monday night (live on BBC telly).
Defeat for the Gunners at Gander Green Lane (that really is the name of Sutton's ground) is unthinkable, but dust off your FA Cup cliches, the (artificial) pitch is a great leveller!
To get you in the mood for a potential humbling of epic proportions, we are revisiting some embarrassing FA Cup moments. Enjoy.
Darren Bent's impossible goal
A great finish from Darren Bent in this year's fourth round. Just a shame it was at the wrong end of the pitch.
Steven Gerrard falls over on live TV
For a career that would ultimately be remembered by some cruel souls for a slip, it seems a bit harsh to riff on the 'Steven Gerrard falls over' theme.
However, there is something so wonderfully natural in Steven Gerrard's reaction to slipping during a live TV interview after helping Liverpool beat Luton in 2006.
"I hope that's not on the telly."
Your team goes 1-0 up in the 2016 FA Cup final.
Goalkeeping howler #7,533
Not one, but two horrendous kicks of a football from Sheffield Wednesday goalkeeper Joe Wildsmith at Middlesbrough this year.
And yes, he is wearing the number two on the back of his shirt. The shame of it all.
Goalkeeping howler #7,534
Wildsmith can at least claim to have made decent contact, which is more than can be said for Reading goalkeeper Ali Al-Habsi.
His team were taking on Man United in the third-round of this year's cup when he committed this unbelievable blunder.
If you're a 'glass half-full' kind of person, you could say the weight of his pass to Rashford was simply perfect.
"Matt Tubbs has just scored. I missed it. Thanks"
Final Score's Mark Clemmit reinforces the wonders of live television by making Sutton United manager Paul Doswell miss his side's equalising goal as they knocked Cheltenham out of the FA Cup second round in December 2016.
In Liverpool's defence, this was the mid-1990s, but still.
The Reds wore this raspberry ripple outfit to the 1996 FA Cup final against arch-rivals Manchester United. They lost.
Highlights of this photo-call include the height of those waistbands and hard man Neil 'Razor' Ruddock pirouetting in some scruffy white trainers.
If you're Theo Walcott's biggest fan, it must be a dream to not only see him and the rest of the Arsenal defeat Sunderland in the FA Cup (3-1) but then have him bring you onto the Emirates Stadium pitch to help perform a trademark bump celebration.
Unless that is, the force of said bump sends you sprawling to the turf.
At least you can get his shirt afterwards.
Man United v Wigan just last month in the fourth round. A two-act tragedy if ever there was one.
Part one: Jose Mourinho fails to pick up large spherical object despite repeated attempts.
Part two: Gary Lineker fails to get a laugh from anybody despite finding the whole thing hilarious.
UP FOR THE CUP? Watch Sutton United v Arsenal live on BBC One on Monday 20 February from 19:30 GMT.