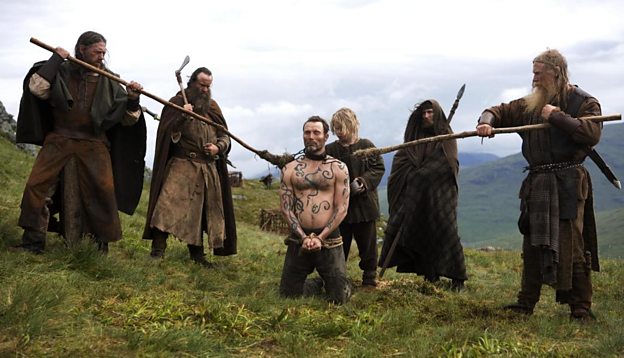 He's driven by hate, that's why he survives.
There is nothing playing at the moment, please check again soon.
Valhalla Rising Synopsis
1000 AD. For years, One Eye, a mute warrior of supernatural strength, has been held prisoner by the Norse chieftain Barde. Aided by Are, a boy slave, One Eye slays his captor and together he and Are escape, beginning a journey into the heart of darkness.
On their flight, One Eye and Are board a Viking vessel but the ship is soon engulfed by an endless fog that clears only as the crew sights an unknown land. As the new world reveals its secrets and the Vikings confront their terrible and bloody fate, One Eye discovers his true self.
From the visionary director of Drive and Bronson, Nicholas Winding Refn.
News and Views
Nicolas Winding Refn reveals the pros and cons of working in the Highlands, how he persuaded Mads Mikkelsen to come along for the journey and why he remains fascinated with the brutality of men.
Credits
Starring:
Mads Mikkelsen, Maarten Stevenson, Gordon Brown, Andrew Flanagan, Gary Lewis, Gary McCormack, Alexander Morton, Jamie Sieves, Ewan Stewart, Matthew Zajac
Director:
Nicolas Winding Refn
Producers:
Johnny Andersen, Bo Ehrhardt, Henrik Danstrup
Screenplay:
Nicolas Winding Refn, Roy Jacobsen
Executive Producers:
Neil Nightingale, David M. Thompson, Bob Weinstein, Harvey Weinstein
Sales agent:
Distributor:
Credits summary:
Nicolas Winding Refn Presents A Nimbus Film / One Eye Production in association with Blind Eye Productions La Belle Alle Productions and Scanbox Film
Related Links
Search BBC Films
Can't find what you need? Search here