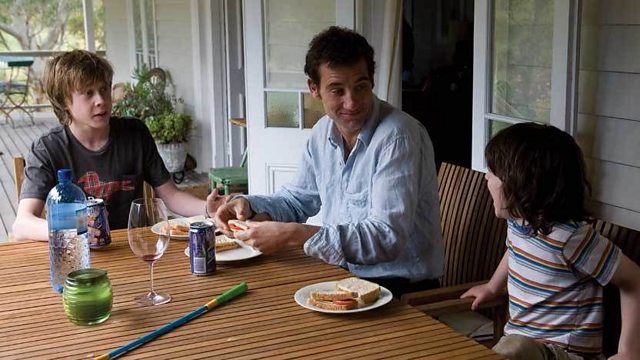 Well, here we are: a father and two sons. Given its inadequacies, I like it.
There is nothing playing at the moment, please check again soon.
The Boys Are Back Synopsis
A funny and emotional film about being a lone parent in a world with few rules.
In a story both moving and humorous, Clive Owen plays journalist Joe Warr tragically thrust into single parenthood. Determined to create a family with two sons from different marriages, Joe throws the rule book out of the window and devises a philosophy for bringing up boys, only to find he has a lot to learn about fatherhood and about himself. Based on the memoir by Simon Carr.
News and Views
Clive Owen and director Scott Hicks on their touching family drama.
Credits
Starring:
Clive Owen, Emma Booth, Laura Fraser, George MacKay, Nicholas McAnulty
Producers:
Greg Brenman, Tim White
Screenplay:
Allan Cubitt from the book The Boys Are Back in Town by Simon Carr
Executive Producers:
Peter Bennett Jones, Clive Owen, David M. Thompson, Jane Wright
Sales agent:
Distributor:
Credits summary:
Screen Australia and South Australian Film Corporation and BBC Films in association with Hopscotch Films and Miramax Films present a Tiger Aspect Pictures production in association with Southern Light Films of a Scott Hicks film.
Running time:
103 mins 52 secs
Release Dates
In cinemas
22 January 2010
Related Links
Search BBC Films
Can't find what you need? Search here