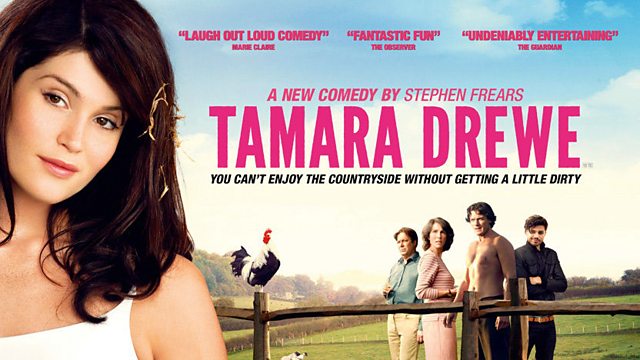 Marriage. Remind me never to try it.
There is nothing playing at the moment, please check again soon.
Tamara Drewe Synopsis
Gemma Arterton plays Tamara, the ultimate modern girl returning to her country home - and her past. Once a shy, ugly teenager, she reinvents herself as a smoldering femme fatale, kicking up a storm of envy, lust and gossip wherever she goes.
Moira Buffini's adaptation from Posy Simmonds' graphic novel and Saturday Guardian strip, Tamara Drewe is a modern-day take on Thomas Hardy's classic, Far From the Madding Crowd.
News and Views
Interviews with the cast and crew, conducted on the red carpet at the film's Leicester Square premiere.
Credits
Starring:
Gemma Arterton, Dominic Cooper, Roger Allam, Luke Evans, Bill Camp, Tamsin Greig
Producers:
Alison Owen, Paul Trijbits, Tracey Seaward
Executive Producers:
Christine Langan, Sharon Harel, Maya Amsellem
Sales agent:
Distributor:
Credits summary:
West End Films, BBC Films and the UK Film Council present a Ruby Films production in association with Nottinghill Films. A Stephen Frears film.
Running time:
111 mins 25 secs
Release Dates
Released
10 September 2010
In cinemas
10 September 2010
Out on DVD
8 February 2011
Related Links
Search BBC Films
Can't find what you need? Search here