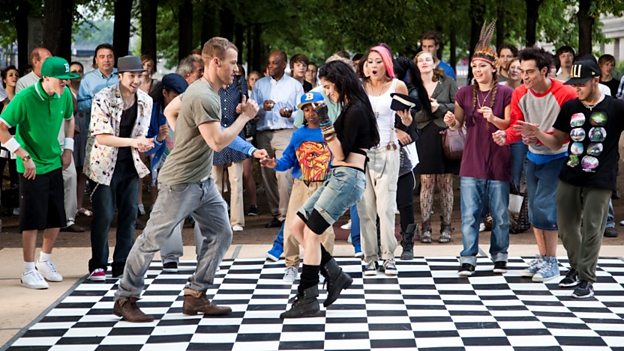 We'll show her the crew, she'll love them. Bam! We're unbeatable.
There is nothing playing at the moment, please check again soon.
StreetDance 2 Synopsis
When a UK street dancer is humiliated in a challenge from a top American crew, he sets out to gain their respect by gathering together a team of the best dancers from around Europe - with a dance style they weren't expecting.
With landmark international locations, a spectacular 3D fusion of dance styles and an unparalleled vibrancy, the sequel to STREETDANCE sees our hero fall in love with a beautiful Latin dancer as he discovers the magic, power and passion of dancing 'a deux' for the ultimate global dance off.
News and Views
BBC Films chats to the cast and crew about what makes this film 'bigger, better and bolder' than the original.
Credits
Starring:
Sofia Boutella, Falk Hentschel, George Sampson, Tom Conti, Flawless Entertainment
Producers:
Allan Niblo, James Richardson
Executive Producers:
Rupert Preston, Nick Love, Nigel Williams, Christine Langan, Al Munteanu
Sales agent:
Distributor:
Credits summary:
Vertigo Films, BBC Films and BFI present in association with Square One Entertainment, supported by Deutscher FilmForderFord A Vertigo Films Production in co-production with Film 1/ Eagle Pictures
Related Links
Search BBC Films
Can't find what you need? Search here