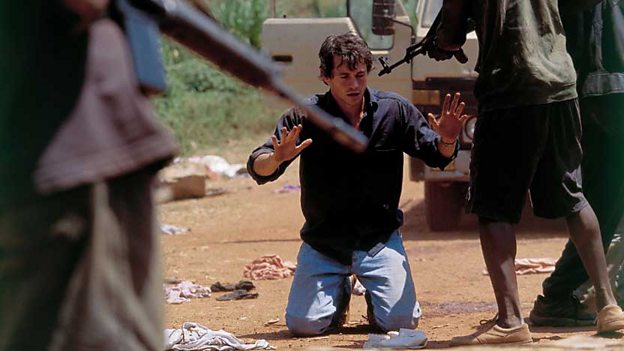 No-one's safety can be guaranteed now. If you do not come, you will die. It's very simple.
There is nothing playing at the moment, please check again soon.
Shooting Dogs Synopsis
April 6th 1994: a bloody genocide in central Africa gets under way.
In just one hundred spring days, a million Rwandan Tutsis were massacred by their fellow Hutu countrymen and a small African country was turned into a charnel house. The barbarity was beyond imagination. But not beyond prevention. The UN was there, watching. Watching but not acting.
And at the heart of it all a British priest and his young acolyte were forced to confront the depths of their faith, the limits of their courage and, ultimately, to make a choice. To remain with their people or to run away.

Credits
Starring:
John Hurt, Hugh Dancy, Dominique Horwitz, Claire-Hope Ashitey
Director:
Michael Caton-Jones
Producers:
David Belton, Pippa Cross, Jens Meurer
Screenplay:
David Wolstencroft
Executive Producers:
David M. Thompson, Paul Trijbits, Ruth Caleb, Karsten Stoeter, Richard Alwyn
Distributor:
Related Links
Search BBC Films
Can't find what you need? Search here